HP Pavilion dv3540es 13,3"

Also tested and working on dv3510nr, dv3550eo, dv3550el and more

Edicion en castellano AQUI


Leopard 10.5.8 Retail

3.0
GUIDE
(24-8-2009)
Reloaded


-------------------------------------------------------------------------------------------

LAST UPDATE (ever): This was my last DV TEST PACK for Snow Leopard before I left this project:
http://www.mediafire...b44qktqoel1z44h

Whats new:

- New Pack for Snow Leopard 64 bits
- Minimal Kext pack used
- New DSDT compiled with 0 Errors 0 Warnings (old one was 28 warnings)
- Native Powermanagement
- Uses 64 bits Kernel

Whats wrong:
- USB sometime fails (fix doesn´t included). Speedstep, Brightness or Sleep don´t work.


This time I don´t gonna make any new guide or installer, I´m sorry.

-------------------------------------------------------------------------------------------




HP Pavilion dv3540es 13,3"

********************************************
** What´s New in v3.0:**

PATCHED DSDT based on Kingnoob v15 BIOS
(No more disabler)
- Graphic drivers update!
(Now using NVenabler)
- Native power management
- Native SpeedStep
- EFI String for Time Machine
- ALPS Trackpad - 2 finger scrolling support + Tap + pref pane
- Media keys working! - (Mute, Volume, Play, rewind and forward)
- Chameleon 2 RC2 bootloader
- Airport full support
- New Battery manager


And my all new...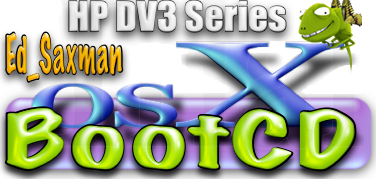 Features:

-Made with Chameleon V2
- Custom taylored for HP DV3 series!
-Drivers Pack 3.0 are included!
-Custom theme
-Provides keyb + ALPS touchpad support during installation
-Provides QE/CI during installation
-Provides sound during installation
-Single ISO image file
-Kingnoob v15 BIOS w. installer included (for windows)


Now with...


SimpleInstaller1.0 !!!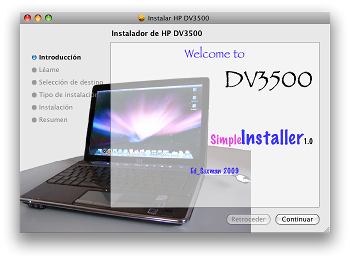 ********************************************************

Changes Log:

2.5
BIOS hacked!! No more whitelist.
So now you can replace Intel 5100 WIFI with any miniPCI-E Airport compatible.
THANKS TO KINGNOOB
Look at point 10 for more info.
2.4b
Only cosmetic changes:
THIS pretty laptop skin from Schtickers.com


Keyboard replaced by this one (Led backlight)




2.4
-Battery meter driver added
2.3
-Speedstep working
-New drivers for sound. Now, internal stereo mic is working.
Shutdown fixed
2.0
- Tested and corrected.
- Drivers pack 2.0
- keyboard & touchpad driver Updated.
- Fixed. Problem of losing keyboard and mouse after upgrade to 10.5.6
- Updated SMBIOS EFI (now using MacBook Air´s one)
- UInstaller included.


WORKS

WIFI (if you flash kingnoob´s BIOS and get an airport compatible wifi card)
Keyboard and touchpad, touch controls (volume, mute)
Sound, both internal & output minijack
Internal stereo mic & input minijack
QE/CI (Graphics Acceleration)
Bluetooth
Ethernet
Cam
USB
Chipset recognized
Restart
Shutdown
Card reader
Intel Speedstep
Battery management
Screen goes dark when you close the laptop (good to hear music)
HDMI out (Extended desktop video, but no sound thru clable yet)


NOT WORKS

Wake from Sleep* (Sleep works, but can´t wake)
Intel Wifi 5100 AGN Wifilink (but now you can replace it)
Validity Fingerprint Reader
Bright controls
InfraRed receiver

STILL TESTING
eSATA port: not tested yet with v3.0
*Wake from sleep working in ONE of my testing partitions
(dont know why)


Osx86Tools info:

00:00.0 Host bridge [0600]: Intel Corporation Mobile 4 Series Chipset Memory Controller Hub [8086:2a40] (rev 07)
00:01.0 PCI bridge [0604]: Intel Corporation Mobile 4 Series Chipset PCI Express Graphics Port [8086:2a41] (rev 07)
00:1a.0 USB Controller [0c03]: Intel Corporation 82801I (ICH9 Family) USB UHCI Controller #4 [8086:2937] (rev 03)
00:1a.1 USB Controller [0c03]: Intel Corporation 82801I (ICH9 Family) USB UHCI Controller #5 [8086:2938] (rev 03)
00:1a.7 USB Controller [0c03]: Intel Corporation 82801I (ICH9 Family) USB2 EHCI Controller #2 [8086:293c] (rev 03)
00:1b.0 Audio device [0403]: Intel Corporation 82801I (ICH9 Family) HD Audio Controller [8086:293e] (rev 03)
00:1c.0 PCI bridge [0604]: Intel Corporation 82801I (ICH9 Family) PCI Express Port 1 [8086:2940] (rev 03)
00:1c.1 PCI bridge [0604]: Intel Corporation 82801I (ICH9 Family) PCI Express Port 2 [8086:2942] (rev 03)
00:1c.5 PCI bridge [0604]: Intel Corporation 82801I (ICH9 Family) PCI Express Port 6 [8086:294a] (rev 03)
00:1d.0 USB Controller [0c03]: Intel Corporation 82801I (ICH9 Family) USB UHCI Controller #1 [8086:2934] (rev 03)
00:1d.1 USB Controller [0c03]: Intel Corporation 82801I (ICH9 Family) USB UHCI Controller #2 [8086:2935] (rev 03)
00:1d.2 USB Controller [0c03]: Intel Corporation 82801I (ICH9 Family) USB UHCI Controller #3 [8086:2936] (rev 03)
00:1d.3 USB Controller [0c03]: Intel Corporation 82801I (ICH9 Family) USB UHCI Controller #6 [8086:2939] (rev 03)
00:1d.7 USB Controller [0c03]: Intel Corporation 82801I (ICH9 Family) USB2 EHCI Controller #1 [8086:293a] (rev 03)
00:1e.0 PCI bridge [0604]: Intel Corporation 82801 Mobile PCI Bridge [8086:2448] (rev 93)
00:1f.0 ISA bridge [0601]: Intel Corporation ICH9M LPC Interface Controller [8086:2919] (rev 03)
00:1f.2 SATA controller [0106]: Intel Corporation ICH9M/M-E SATA AHCI Controller [8086:2929] (rev 03)
00:1f.3 SMBus [0c05]: Intel Corporation 82801I (ICH9 Family) SMBus Controller [8086:2930] (rev 03)
01:00.0 VGA compatible controller [0300]: nVidia Corporation GeForce 9300M GS [10de:06e9] (rev a1)
02:00.0 Ethernet controller [0200]: Realtek Semiconductor Co., Ltd. RTL8111/8168B PCI Express Gigabit Ethernet controller [10ec:8168] (rev 02)
03:00.0 Network controller [0280]: Intel Corporation Unknown device [8086:4237]


***********************************************************
STEP BY STEP GUIDE 3.0
(11-8-2009)
***********************************************************
(Looking for Testers)


1- WHAT YOU NEED:
(
24
-8-2009)
Reloaded
- My new
>> DV3 BootCD with 3.0 Drivers Pack and SimpleInstaller included <<
Just burn this to CD.
It´s an ISO image, so you can use osx or windows to burn your BootCD. You can even mount it in windows with daemontools to view contents.
- OS X Leopard retail, any version from 10.5.0.
- Download
[url="http://"http://support.apple.com/downloads/Mac_OS_X_10_5_8_Combo_Update""]10.5.8 combo update [/url]
. Move it in your pendrive or external device being used or download it with OS X already installed. Of course you can also use software update utility, but combo installer it's recommended.
-[ABOUT WIFI]
Now you can use

KINGNOOB v15 BIOS
to avoid the whitelist (This allow WIFI card replacement)

. This pack includes installer for win7/vista. Take a look at the last point of this guide to find more info about this.
2 - LOADING RETAIL DVD:
Turn on your laptop, and press F10
Go into the bios and change the boot order, setting the DVD on the first place.
Put on your dvd drive the DV3 CdBoot you've previously recorded on cd.
You'll see Darwin starts to load. . When it appears, you'll see "Would you like to enable media rescan option?"
Press Enter.
Press F8 when a green bar appears, and quicky press the eject button of your drive.
Insert your retail DVD and wait about 30-40 secs until the light of your drive is off and press Escape to reload.
When "Mac OS X Install DVD" appears, press enter.
If you dont wait long enough to read the DVD before pressing Enter, you'll see some error messages. It is not important, are simply attempts to read, but they are ugly to see. Much better if you wait till the DVD stops by itself.
Darwin starts to load and displays a smiling green apple:

I´ve used this distinctive icon on my new DV3BootCD to avoid any mistake with the Chameleon boot, which installs on the hard disk.
Behind this screen, some strange things are happening.
3 - FORMATTING
:
After a minute or two, you'll see the language selection screen of Mac OS X.
Choose your desired language, and click the blue arrow below.
You'll see the Welcome screen.
Run the Hard Disk Utility located on the top.
Select the whole hard disk, the first icon on the left (not the partitions, whole HD) and click on the tab "Partitions".
In the dropdown "Volume Scheme", select the number of partitions that you want, and click Options (bottom). Select the first option: "GUID Partition Table" and click OK.
Resize the partitions if you want, and choose a nice name, preferably without spaces to the main partition (Something like OSX or LEOPARD).
As format: select MAC OS Extended (Journaled) on each partition.
Click Apply.
(Optional) Triple boot: If you´re planning to install Windows 7 and/or Ubuntu 9, create at least 3 partitions:
(This is my initial config, as an example)
1- Leopard (HFS+) 60GB
2- Windows7 (FAT) 60GB
3- Ubuntu9 (FAT) 30GB

4- LinuxSwap (FAT) 4GB
5- Vault (FAT) +100GB
6- OSX Test & Backup (HFS+)
20GB
Later you can format the partitions in the specific format for each operating system.
From this moment, our HD is ready for OS X. We left the old MBR partition table for a newer GPT.
4 - INSTALLING:
Close the Disk Utility and return to the Welcome screen. Click "continue."
We will see the Apple´s EULA, and we´re agree.
We came to the screen, "select a target disk". Select your first partition, and click on Continue.
On last screen, You can click "customize" and remove things you dont need (languages, fonts, printer drivers, etc), but leave checked the x11 thing, it´s useful and many software takes use of it.
Click on Install.
Now relax, and watch the blue progress bar. When completed, it will prompt a kind of error and says that it will reboot your computer. But don´t worry and click Reboot.
When you see the HP logo, press the power off button of your laptop.
Turn it on again, and quickly press the eject button on the DVD.
Remove the retail OS X DVD, and re-enter the CDBoot. If you don´t have enought time, turn off and try again, but do it.
How to boot from HD with the DV3 CDboot:
When it ask: Would you like to enable media rescan option?
Press any key (but not the Enter key).
Press F8 then green bar appears.
Select your partition with cursor keys if needed, and press enter.
5 - FIRST START:
OS X still can´t boot from the HD, so we had to return to cdBoot.
At this moment you should be watching the video of the introduction of Leopard, with its music, (now in your native res with the new DV3 BootCD), its galaxies and all that stuff. Then a blue screen, colorful cursor ... and you´re inside.
Start with the account setup wizard . Just Follow the steps, take your first photo, and you will see the desktop for the first time.
OS X will recognize the network or WIFI (if compatible) card automatically on this machine, from the beginning. If you have the ethernet cable plugged in, simply type a static IP for your pc and the gateway (the address of your router)
When you arrive at the desk, keep in mind that Leopard is
now running on a basic VGA mode, and without drivers. Keep in mind that now is when the windows start to do weird stuff if you drag. Just try not to do so. If the windows smears, just click on the desktop or another window to restore. If it´s a finder´s window, use the Back and Forward buttons (arrows) or change to other directory to restore or minimize the window.
(Now you get QE/CI all the time, with DV3 BootCD)
6 - UPDATING TO 10.5.8
-Now install the official 10.5.8 combo update that you downloaded and saved on your pendrive previously, or If you have Internet connection, download it from Apple now.
After installation, repeat the same from point 4. (boot with DV3 BootCD).
It will reboot 2 times.
7- INSTALLING DRIVERS:
Note: This part of my tutorial is still a testing area, and it will be in constant restructuring, possibly changing some of the drivers employed. Check from time to time this part of the tutorial to find out if there have been changes or additions.
- Open your DV3 BootCD.
- Open "HP DV3500 3.0" folder: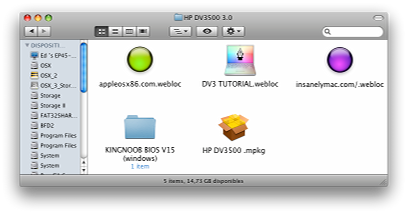 ------- Run "HP DV3500.mpkg" and you will see ... "
SimpleInstaller 1.0
" !! ----.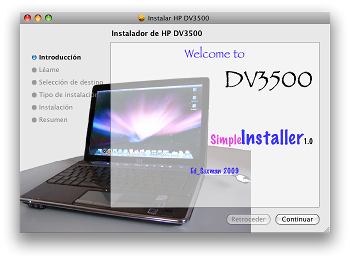 SimpleInstaller 1.0
will help us to install everything we need, making all even easier.
SimpleInstaller just copy some files to 3 locations of your HD:
/Extra
- It will copy the folder "Extra" to the root of your HD. This folder contains most of the Kext we need, including Nvidia 9300, internal keyboard and touchpad, etc.
/Library/PreferencePanes
- Here it will copy "Shades" (application to control the brightness) and overwrites the original trackpad.prefPane by a new one, that will work with our trackpad (2 finger scrolling, tap, vertical scrolling, etc.. . )
/Applications
- Two apps (Kext Utility 2.0 and Hardware Monitor) and the folder "DV3500" , which contains the rest of Kext to use.
---- Now let's do our part: -------
Go to your Applications folder and open the folder "DV3500".
1 -
Installing Chameleon 2 RC2. (You have 2 options to do so)

OPTION A:
(Using Chameleon 2 installer)
- First of all, rename your folder "Extra" that is at the root of your main partition, or move it to the desktop.
- Go to your Applications folder and open the folder "dv3500".
- Open the folder "Chameleon-2-RC2-R640 Installer" and run the file inside. Install it to your main partition.
- When finished, delete the folder "Extra" that Chameleon has created, and replace it with yours.
Dont reboot yet, and go to Step 2.
OPTION B:
(Manual Installation with Scripts )
In your folder "DV3500" you can found "Chameleon2 RC2 R640 bin". It contains Chameleon´s binary files, and we will install through a simple script that I've written, to make it easier.
- Click on Spotlight and type "terminal".
- Now type or copy these commands:
cd /Applications/DV3500/Chameleon-2-RC2-Bin/i386
	  sh Chameleon2Script.sh
- The script will make us 2 questions: "Would you like to install Chameleon on disk0s2 partition?" (the partition of OS X), then "would you like to flag it as active?". Answer "Y" to both questions, and we have Chameleon2 already installed.
2 -
Go to your folder "DV3500" and open the folder "Intel IDT Audio".
- Run the KextHelper. Drag the files "AppleHDA, HDA Enabler and IOUSBfamily " to the top window of Kexthelper.
- Enter your administrator password and click "Easy Install". Then close Kexthelper but don´t reboot yet.
3 -
Go to folder "DV3500" and open the folder "Media Keys Enabler".
- Double click on the "Configuration" file inside. The app will open for 5 second and then will close.
- Reopen the same file, and then it will ask " you want to add your prefs?". Click "Insert"
- Click the button "preferences" and check the option "launch butler on log in".
- Uncheck "Display splash Screen" and Close it by now.
4 -
(optional) Go to "Applications" and run "Hardware Monitor".
- When it ask for "install drivers for Intel extended support?" and so on, say yes to everything.
- When finished, right click the icon in the dock, and close it.
5 -
Back to "applications" and run the "Kext Utility 2.0". It may take a while to finish. Meanwhile, Unmount your CD.
--- Reboot now WITHOUT your BootCD -----------
You should be watching now the standard Chameleon´s silver apple:

(If you´re still seeing the smiling green one, eject your bootCD)
8 - FINAL FIXES
1- Go to "System preferences" and..
- Open "Energysaver", click "show details" and set Sleep to "never" for both AC and battery. We do this until we have a definitive solution to the wake from Sleep.
- Open the new panel "Trackpad" and activate the "clicking". Set "scrolling speed" to the minimum, and uncheck "horizontal scrolling. "
- Open "displays" tab and click "color". Click the "Calibrate" button, and when you get to "white point" option set "PC monitor."
- Click "Share" Here you can put the name of your PC.
- Open "Shades" and set your preferences.
2 - Click on the apple menu, "dock", and turn magnification on.
3 - Set expose and spaces to your liking.
Enjoy your OS X Leopard!!!
********************************************************************************
-Sources and info about 3.0 drivers pack
: Section not ready yet.
- WIFI & Final Thoughts:
Kingnoob its the user who probably wrote the best first post ever (at least for a few of us).

Now is possible to replace the WiFi card that comes with our laptop, the Intel 5100, (for which there are no drivers for OSX) with any Airport compatible card.

The installer included in the ZIP attachment is from the original HP Website. (intended for Vista/windows 7 32bits) and includes the Kingnoob BIOS (.FD extension) It is based on the F15 official firmware.

I bought my card here: Justopeshop. They are English Ebay powersellers but I think they can deliver worldwide.

I can highly recommend: Dell DW1390 or Dell DW1490.

Other alternatives are: An compatible external USB wifi (I was using the conceptronic C54RU , with this drivers.) or an Expresscard (that goes into the side of the laptop where the remote is stored) like the Dell DW1390 (reported by esoterikest)

.........

- Our fingerprint reader is this one. The bad news are that Validity fingerprints seems not to have osx support yet... I've also tried with Upek software but doesn't work.

- Now we need help about wake from sleep and brightness controls.


An Ed_Saxman guide (Ed_Saxman_BCN)


Post your results!


V3 Tested on:

Ed_Saxman_BCN - dv3540es

flopp99 - dv3550eo
Angel Abad - dv3550es
jaqscm - dv3550es
sigterm - DV5-1165ep
V2 Tested on:
Ed_Saxman_BCN - dv3540es
Karlankas - dv3540es
53ph1207h - dv3510nr
superfluke - dv3510
liddan - dv3550eo
SnoopKatt- dv3510nr
Angel Abad- dv3550es
Genius128 - dv3550es
AngeleToR - dv3540es
Janri - dv3540es
esoterikest - dv3510nr
JohnEisenheim - dv3550el
Kingnoob - dv3510nr

Also tested on different machines:
tGill - HP dv2817ca (works)
xyf - asia/pacific HP DV3000 (No wifi (4965 card), shutdown/restart issue...)
mellors35 - HP G70-120EA (no sound but Atheros Wireless card works)
sasj15 - HP dv4-1030ee (problems with usb devices, cam doesnt work ootb)


Attachment (same as above):


>> DV3 BootCD with 3.0 Drivers Pack and SimpleInstaller included <<
Kingnoob v15
BIOS
to avoid whitelist (allows WIFI replacement)
OLD Galaxy BootCD
OLD 2.4 Drivers pack for HP dv3540es
|
Mirror1
Edicion en castellano AQUI