Apple Reduces Memory Chip Orders From Samsung
Apple has ordered less memory chips for its upcoming next-gen iPhone from Samsung in order to diversify its sourcing portfolio.
The decision, according to a source that spoke with Reuters news service, has nothing to do with the patent war between the two companies, as Apple has been looking to widen its supply chain for a while.
The Korea Economic Daily, citing an unnamed industry source, reported on Friday that Apple had dropped Samsung from the list of memory chip suppliers for the first batch of the new iPhone, the iPhone 5, which is widely expected to be unveiled mid-September. The report said Apple instead picked Japan's Toshiba Corp, Elpida Memory and Korea's SK Hynix to supply DRAM and NAND chips.
"Samsung is still on the list of initial memory chip suppliers (for new iPhones). But Apple orders have been trending down and Samsung is making up for the reduced order from others, notably Samsung's handset business," the Reuters source said.
Apple and Samsung have taken their bruising patent disputes to some 10 countries as they vie for market share in the booming mobile industry. Apple won a landmark victory last month after a U.S. jury found the South Korean firm had copied key features of the iPhone and awarded Apple more than one billion dollars(US) in damages.
Still, Samsung remains the sole producer of Apple-designed micro chips that power the iPhone and iPad, making their relationship too important for either party to put at risk.
New Mac Pros to Feature Nvidia's Quadro K5000 GPU
Nvidia has announced its Quadro K5000 GPU will be a part of Apple's Mac Pro systems. On its own, the professional-grade graphics card costs over $2,200. It's twice as fast than its predecessor, the Quadro 4000, comes with 4GB of memory, two DVI-DL and two DisplayPort connectors and supports 4K resolution.
Engadget had a look at
the new GPU running in a Mac Pro system
, and found impressive performance from it when streaming HD video and adding effects in real time. Some programs like Adobe After Effects can utilize more than one GPU and perform advanced and computationally intensive ray tracing calculations for modeling lighting (reflections, shadows, etc.) around 3D models in real time. Engadget has a video of its time with the Mac Pro system, which outlines the speed of the system when coupled with the new GPU.
The Quadro K5000 for Mac is slated to begin shipping "later this year" from resellers and system integrators—it's not clear if it will be directly available from Apple—with stand alone pricing starting at $2,249.
Hidden files in the Mountain Lion version of Boot Camp appear to confirm the next generation of both the Mac Pro and iMac.
Anyone care to confirm this - post below!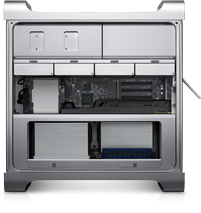 Within a Boot Camp configuration file lies information that tells the software what models of Mac can boot Windows from a USB-drive, a task that only Macs of a more recent vintage can accomplish. The file includes mention of the existing Mac Mini and MacBook Air, but also mentions iMac 13,0 and MacPro 6,0 models -- machines that don't currently exist.
After the Mac Pro was given a quiet update this year, many were wondering about the future of Apple's desktop line of Macs. Both Apple CEO Tim Cook and an unnamed Apple spokesperson have confirmed that the Mac Pro will receive a full redesign for delivery sometime in 2013, nearly three years after the last significant update to the product.
A reader at
macrumors.com
who had emailed Apple CEO Tim Cook about his disappointment in the lack of a significant Mac Pro update this year, got CEO Tim Cook responding to indicate that users can expect significant upgrades next year.
"Our pro customers are really important to us...don't worry as we're working on something really great for later next year."
Forbes
now follows up with additional corroboration of both Mac Pro and iMac updates coming down the road, with the updates likely appearing next year. The information was provided directly by an Apple spokesperson.
"An Apple spokesman just told me that new models and new designs of the Mac Pro, as well as the iMac desktop, are in the works and will likely be released in 2013. That confirms what New York Times columnist David Pogue said yesterday, citing an unnamed Apple executive, about Apple's commitment to its desktop computers."
Perhaps this will give the hackintosh community some new drivers to work with.
Click here to view the article