SwitchSound v2.0
An audio device toggling solution written in Applescript, with support for visual and audio notifications.
Especially useful for those using their motherboard's multiple analog audio outs for surround sound.
eg. ALC889a ALC888 etc
Handy Hint
You can quickly bring up a full list of sound devices by Alt+Clicking on the volume icon in the OSX menubar.
This is neat if you regularly use more than two sound devices.
Info for Surround Sound users:
I made this pack as a resource for users with analog surround sound gear like myself.
Real macs don't have built-in analog surround sound, so users have to do it themselves.
SwitchSound should also be useful for real mac owners with external analog audio output hubs...
You will notice in OSX that you cannot adjust global surround volume via the sound hotkeys. There is no way round this. Whilst you will want to use your aggregate device when you want surround sound, most of the time, you will be only wanting to use stereo (eg. use front speakers for iTunes, Youtube etc, surround for XBMC or VLC).
So i (with the help of other people's work) made something that will do this.
I wanted my surround sound to fully gel into the mac experience, so i wrote this applescript pack, with full installation instructions.
Who is this script for?
People who regularly use two different sound devices. Like surround + stereo,
or surround + headphones (if your headphone socket doesn't automaticly switch device when you plug in/remove headphones). Please note, this script can also be used for Digital and Soundflower outputs, as well as inputs.
Any device that shows up in Audio MIDI Setup.app can be controlled by the script.
Why might you want it?
So that you can switch quickly between your most used sound output devices.
To more fully integrate surround sound into the mac experience.
Apple provides no hotkey method to switch between sound devices.
What does it do?
Lets you use a hotkey (F1, F2 etc any other key or combination of keys you want) to swap sound device.
Thanks to growl, when activated it provides you with a nice and non-intrusive visual popup notification.
It also provides an audio notification. (You can edit almost every aspect of the script in the user settings)
Just like how the genuine volume hotkeys work on OSX.
How does it work?
When you hit the hotkey, Quicksilver (or any other hotkey app) runs the applescript, which intelligently toggles between your sound devices by executing an unseen shell script which tells the core commandline utility SwitchAudioSource which device to switch to. At the same time it tells Play Sound to play a sound file silently and sends a notification to Growl, complete with the device-name, informative text and image. Play Sound.app and SwitchAudioSource executable are contained in a hidden folder in the SwitchSound folder.
If you do not want the bloat of Growl (for slow macs/hacs), the script functions fine without it. You can also disable Play Sound in the scripts user settings.
Growl's Bezel style is very close to the genuine apple volume adjustment pop-up.
Heres a preview of just a few ways the notifications can be configured: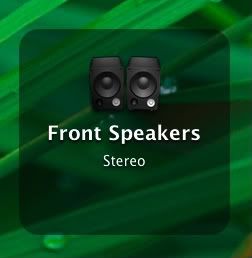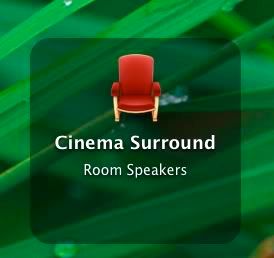 Download the SwitchSound diskimage below, and follow the How-To Guide.pdf to get it set-up.
The installer asks you if you want to install the switchaudiosource utility to terminal but it is completely optional.
Download SwitchSound-v2.0.1.dmg:


[Mirror 1]

[Mirror 2]

[Mirror 3]

[Mirror 4]
The next major version (2.1) will have these features added:
>Support for cycling through more than two devices
>A second script set up for only switching to one device.
Why? so hotkeys are static and used for switching to one device only.
Long term To-Do
>Some easier/simpler way to configure settings, GUI based. (possibly)