Hey guys, this is my g5 FULL ATX mod. I have had it for about 3 or 4 months. However, i haven't been working on it solid for this entire time. It's finally complete, well almost. I wanted to keep it "stock" looking as much as possible.
So first i gutted the case. only one picture since you already know what it looks like!
First i took the case apart and installed my own sata power cables and sata data cables. I can now have 4 hdd. Supports sata III, just my motherboard doesn't...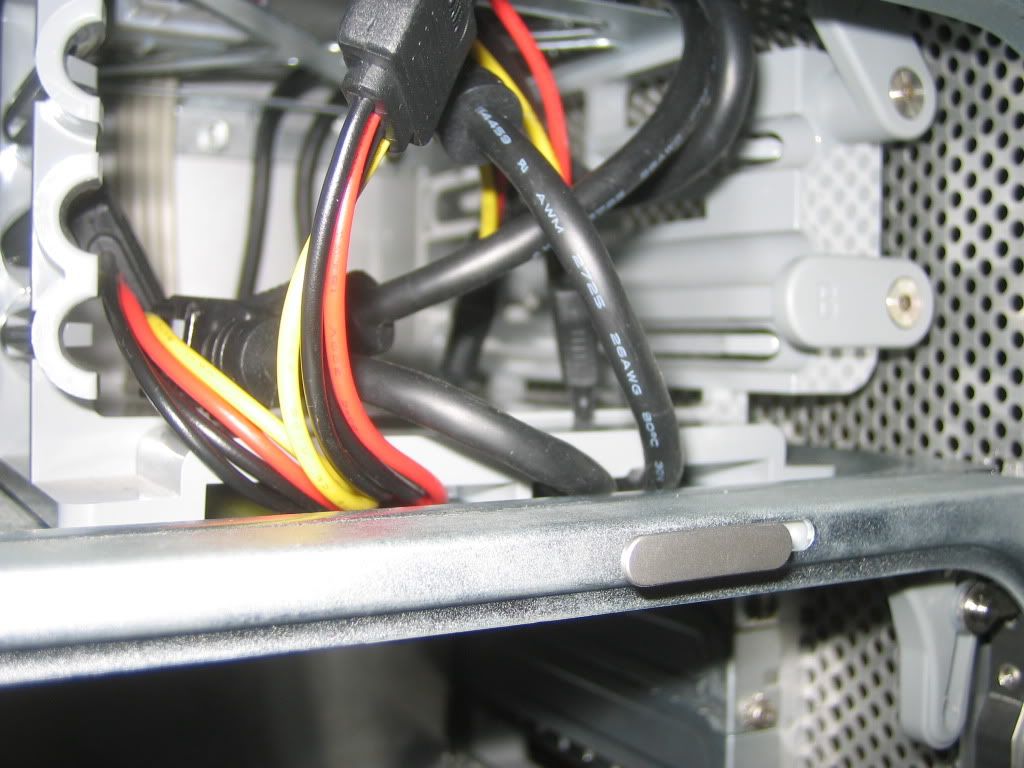 I then went about making a template for the fake side panel i was putting in. All credit goes to mr bean over on hardforums, i saw his and fell inlove, with the early design anyway.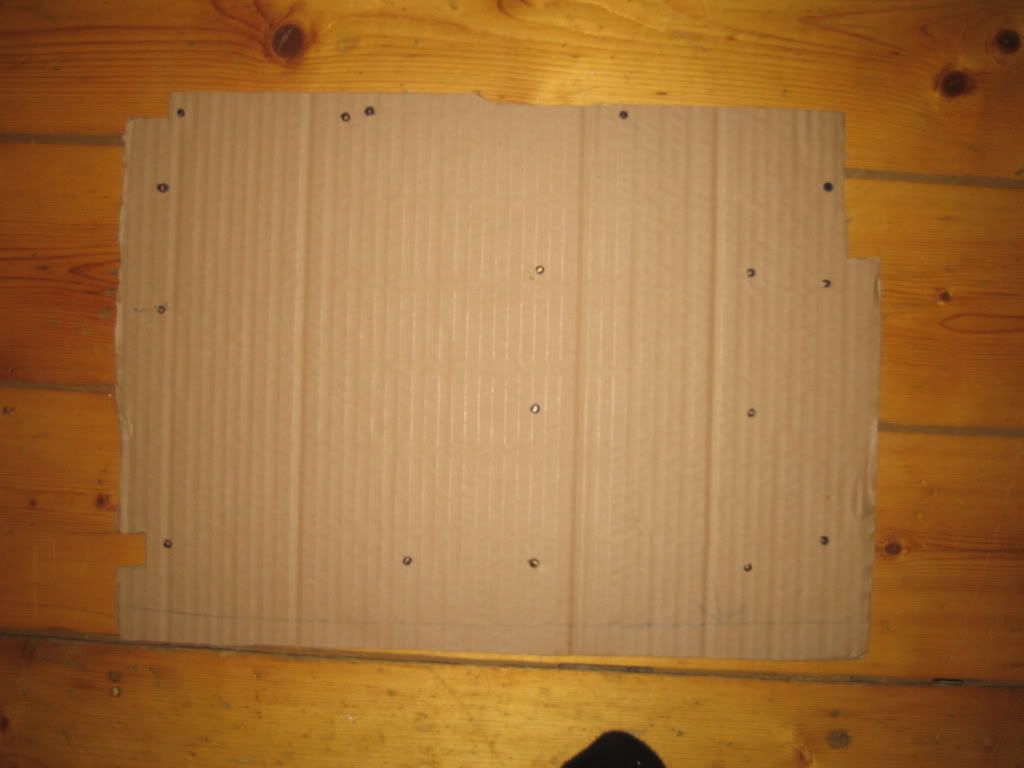 And here it is. Nice and grubby with my finger prints! Mounted to the original untouched g5 standoffs.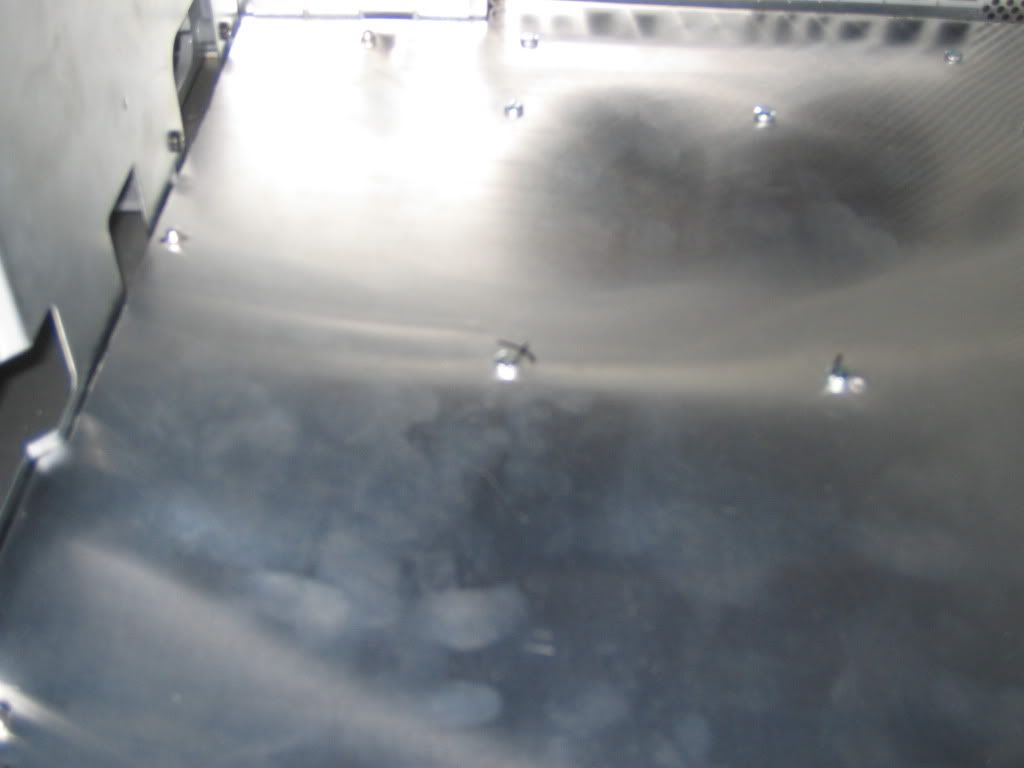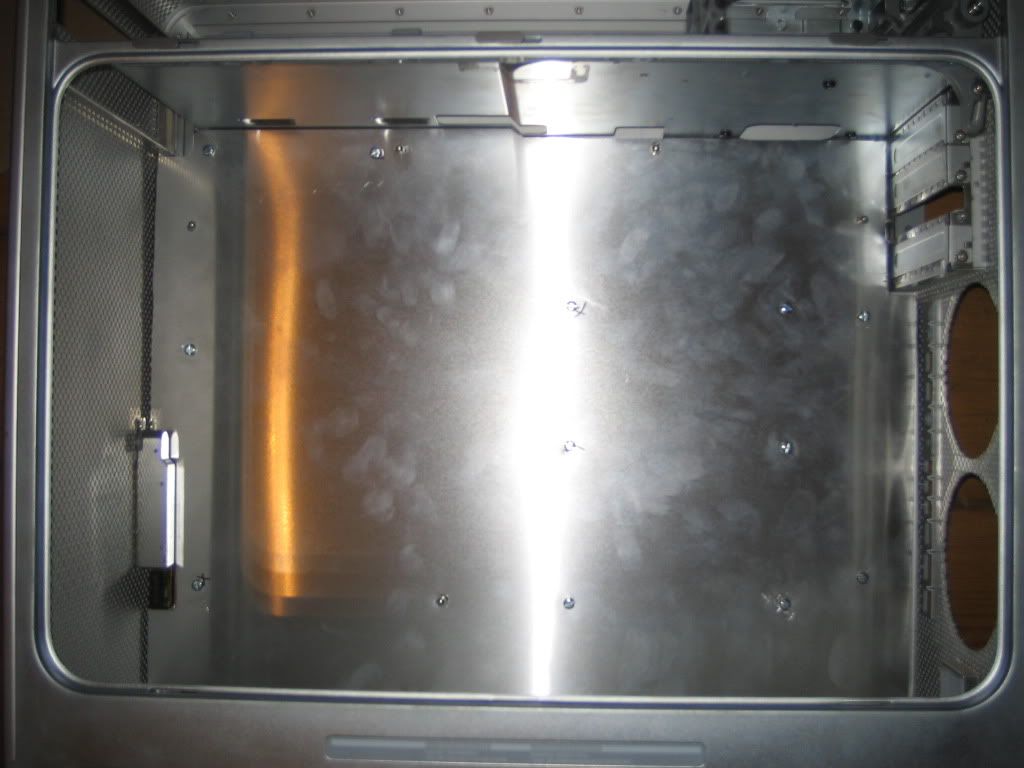 Then made the fan hookups. Drive Bay, both fans operational at a fixed 5v.
I used header pins that i had pulled out of a dead motherboard.
Work so far, Power cables and fan power cables.
Motherboard installed using standard standoffs screwed to my fake side panel.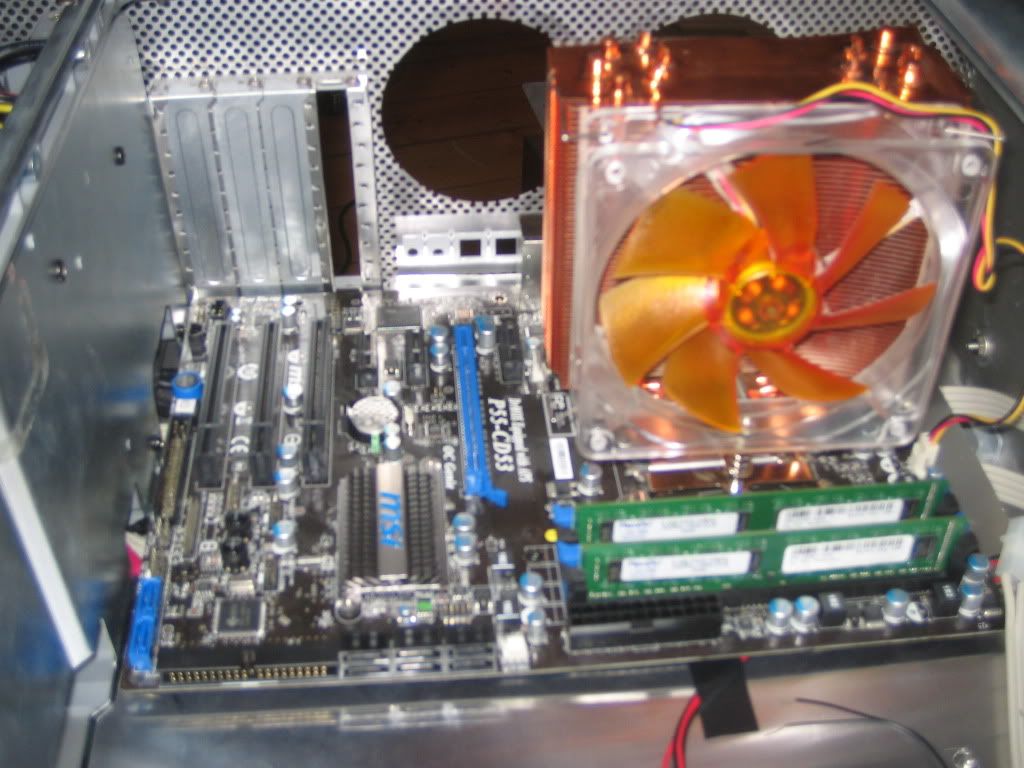 Holes for motherboard cables, mainly power and sata lines.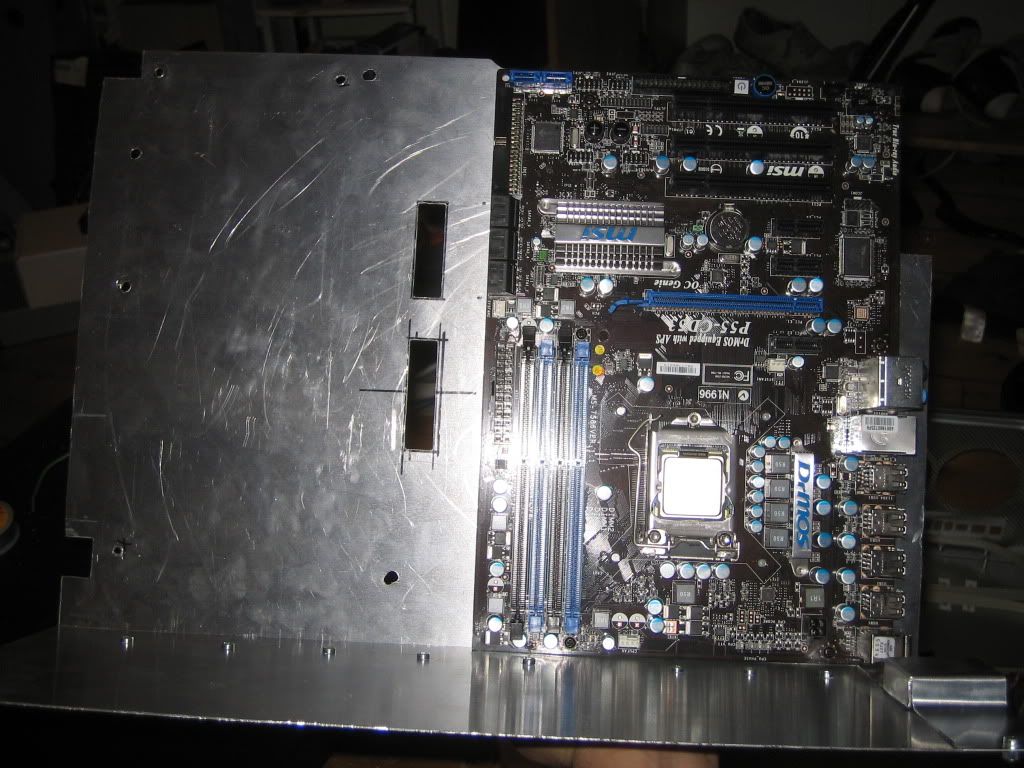 Power supply, out of case and screwed down using the original holes in the bottom of the case.
Graphics card would be right be hind the fan, luckily it had a vga extension cable which just reached the first pci slot.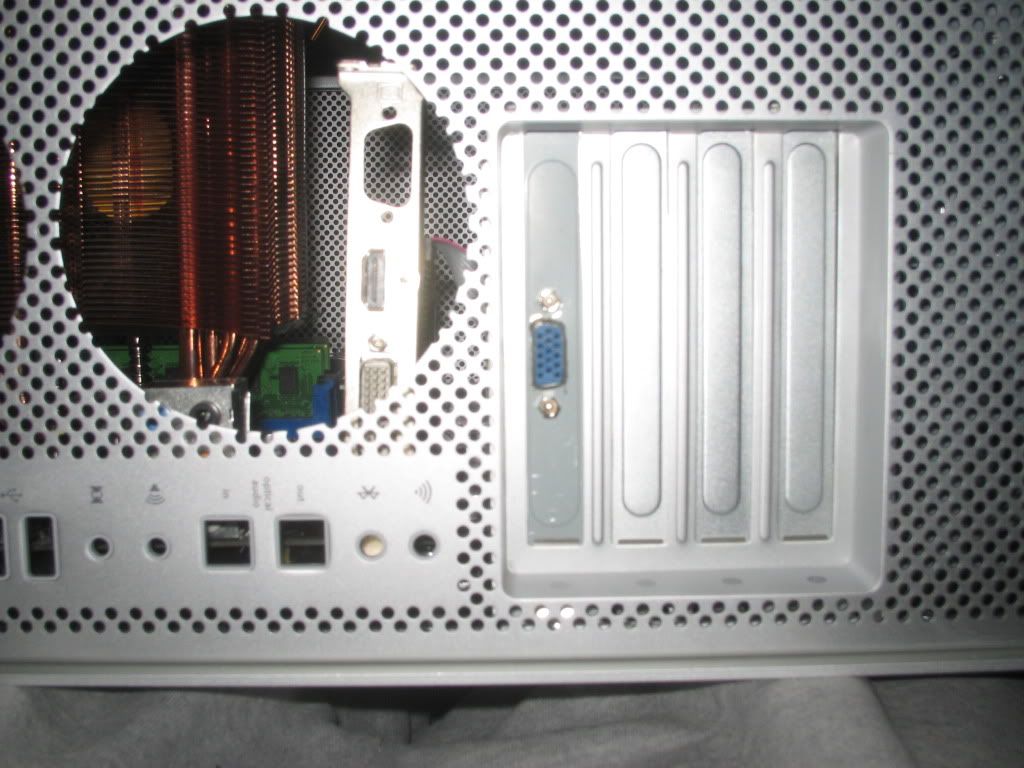 I was trying to firgure out how to let the graphics card sit in the pci slot properly because the front plate props it up a bit, but then i realised it can be removed!
My old divider, I made a newer one that had flaps to help support it instead of using extra brackets to hold it in.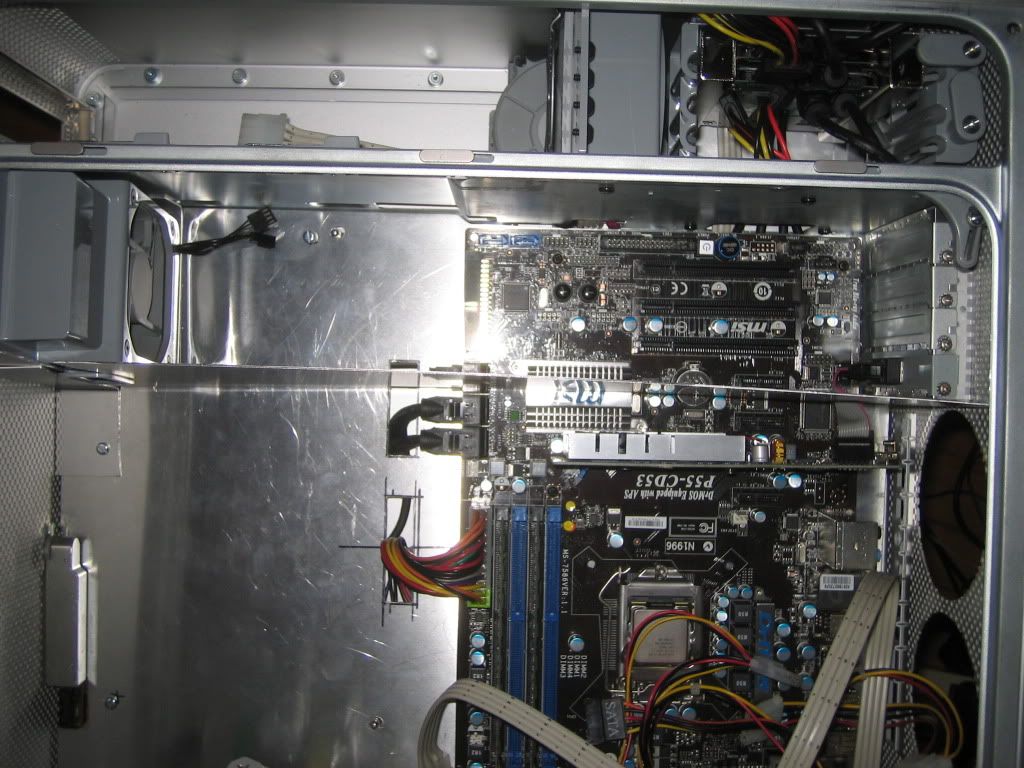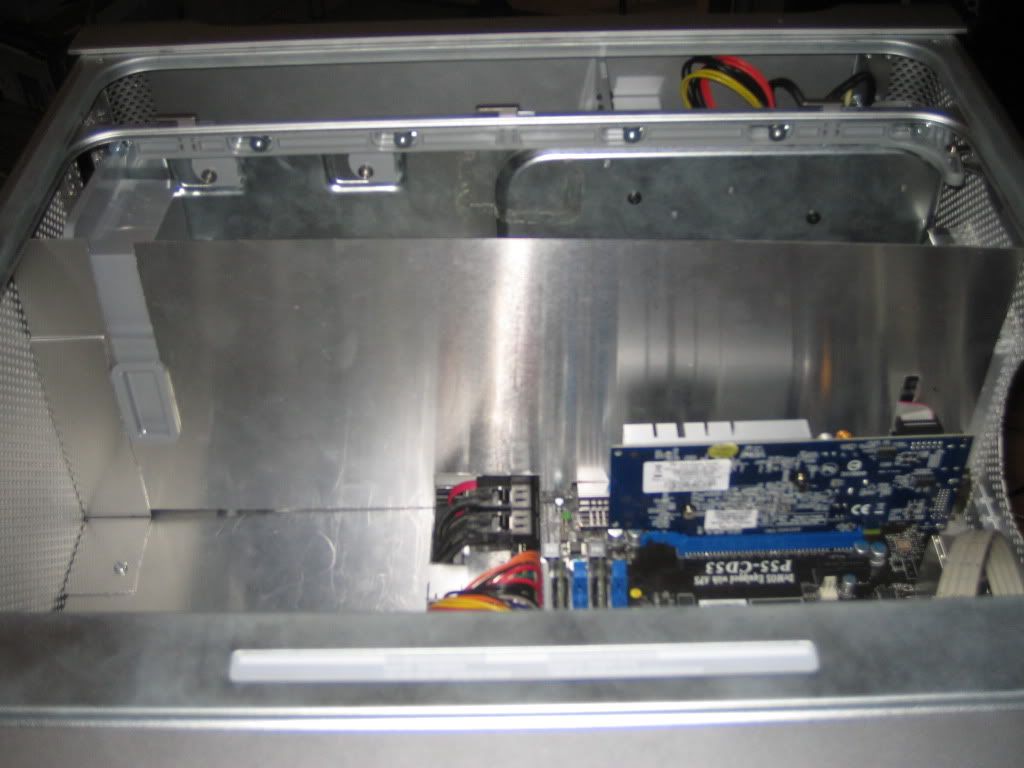 I am super pleased with this.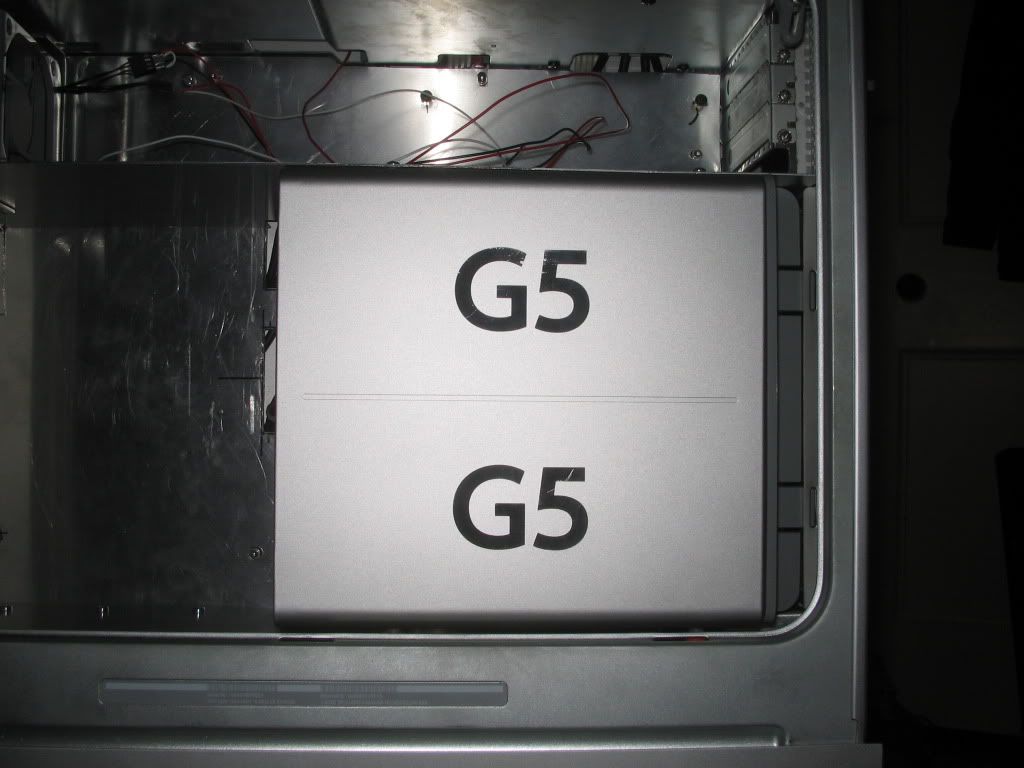 It all fits(just) with the air deflector.
The new floor, covering the power supply.
Out of the case.
Unfortunately, i had made the floor with power in cover, before i had made a bracket to hold the power socket in place, so i had to make a new larger one, I'm not best pleased with this, the older one was much nicer looking. But it can barely be seen so it shall do. And I've just realised the rear fan mount wont fit in against this new cover. Look how high it is sitting. This is really annoying!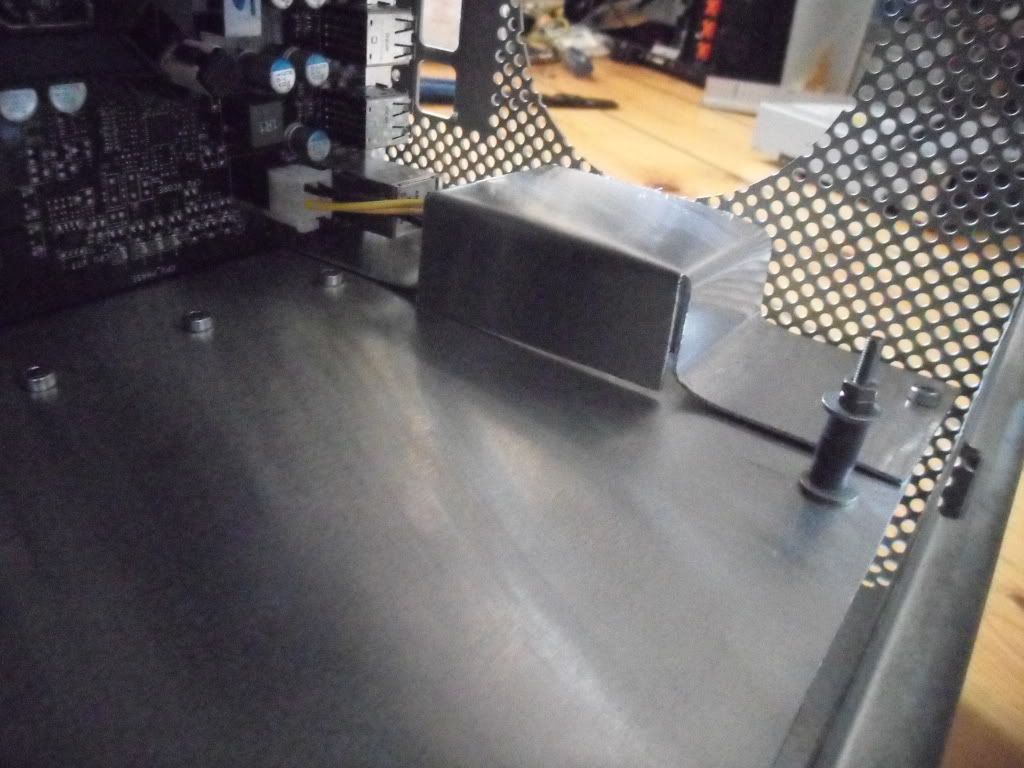 All cables nicely routed behind the side panel. Every cable i could find was braided or heatshrinked(is that even a word)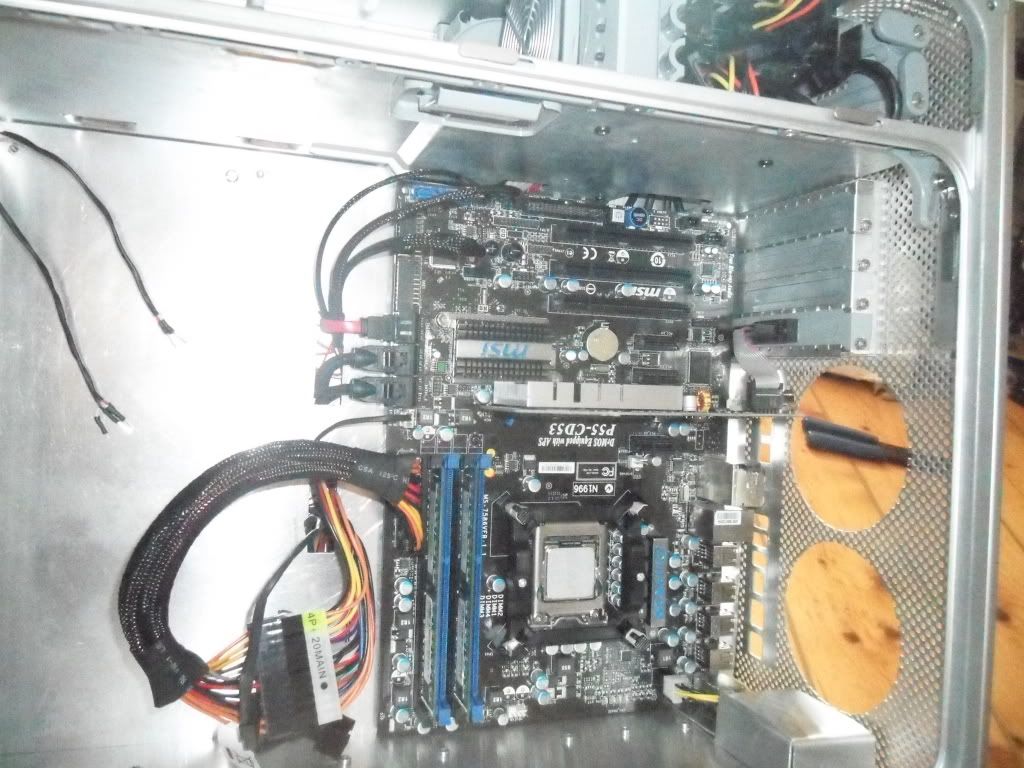 The G5 i bought had previously been in an art college, so it had a security label. (I now know why they deter theives!!!!) Anyway, the previous owner had had their own shot at getting it off and made a right mess, and to be honest i wasn't much better but this is the result.
As i plan to sell i installed a tact switch. Here is it leaving the disk drive itself.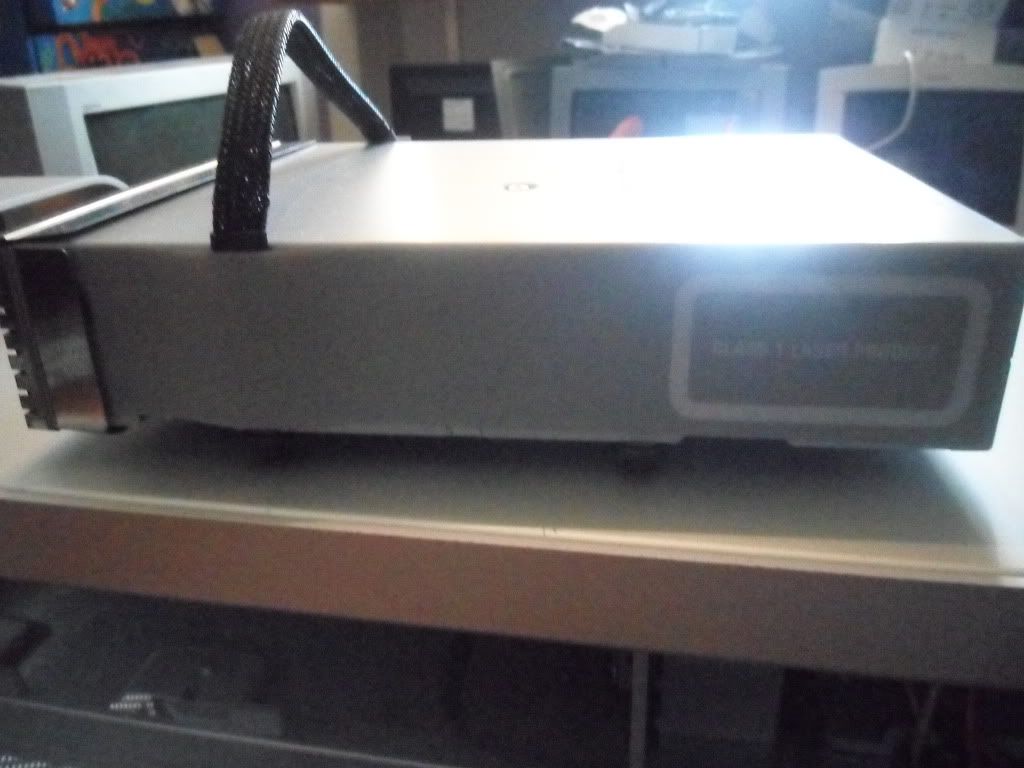 And the other end.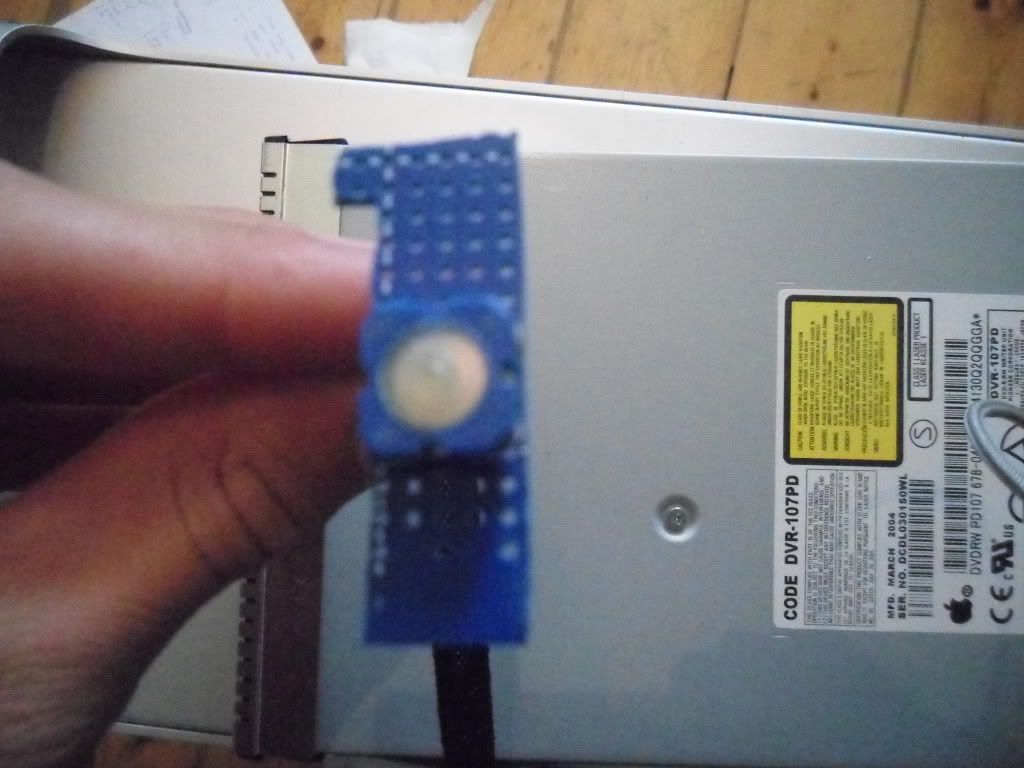 Front panel cable.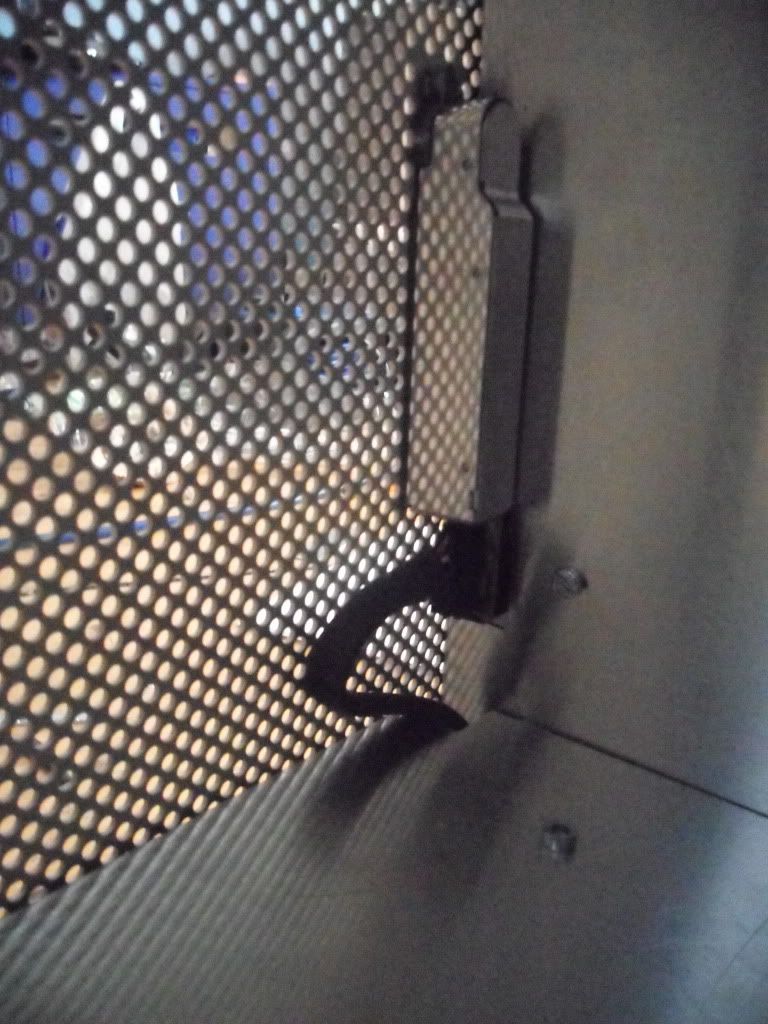 Link to the full photobucket album(
http://s1232.photobucket.com/albums/ff375/guscarrie/#!cpZZ1QQtppZZ16
).
I'll make sure and take some pictures once its fully complete!
Next on my list is
1. Turn a macbook into a mini desktop for my little brother. Only major issue i can think of would be how to get the slot loading dvd drive to sit flush against the front of the case and stay straight. And possible the rear I/O just making it look nice.
2. Put a mini itx board into a G4 dome iMac. Either trying to reuse the screen or buy a new one and fit it into the g4s housing.
3. Using a mini itx board try and make a mac mini look a like. Issues being, I can't think of how to fix the aluminium in the correct shape. The real minis are one continuous piece like they've been extruded. The dimensions would obviously be a bit larger than the real mini but its just meant to be a look a like.
4. Another g5.
5. A g4.
6. Possibly fabricate my own custom case and start from there.