I have an Asus G1Sn-B1 laptop that I would like to install Mac OS X 10.5 or 10.6 on. I have looked all over for a tutorial on how to install on a G1Sn series laptop with no luck, but I have found many tutorials for the G1S series which doesn't work for the G1Sn. Has anyone else succeeded on installing Mac on this model?
Specs:
T9300 Core2Duo @ 2.5GHz with SSE1, 2, 3, 4.1, EM64T, and MMX
4 GB of DDR2 RAM
GeForce 9500M GS (code named G84) with 512MB memory
Intel PM965 Chipset
Intel 82801HBM (ICH8-ME) Southbridge
Integrated Intel® High Definition Audio chip (Azalia)
Realtek RTL8168B/8111B PCI-E Gigabit ethernet
Intel Wireless WiFi Link 4965AGN
Built-in Bluetooth™ V2.0+EDR
I have tried using iDeneb v1.4 and v1.5.1, but they both end up the same way in the end. The install goes successfully everytime and I can even boot up to the Chameleon boot loader and select the Mac OS to boot from. After selecting OS it starts to boot, but just stops at the Apple logo and if I boot using verbose it stops at the line "Using 16384 buffer headers and 4096 cluster IO buffer headers". It will sit this way for hours.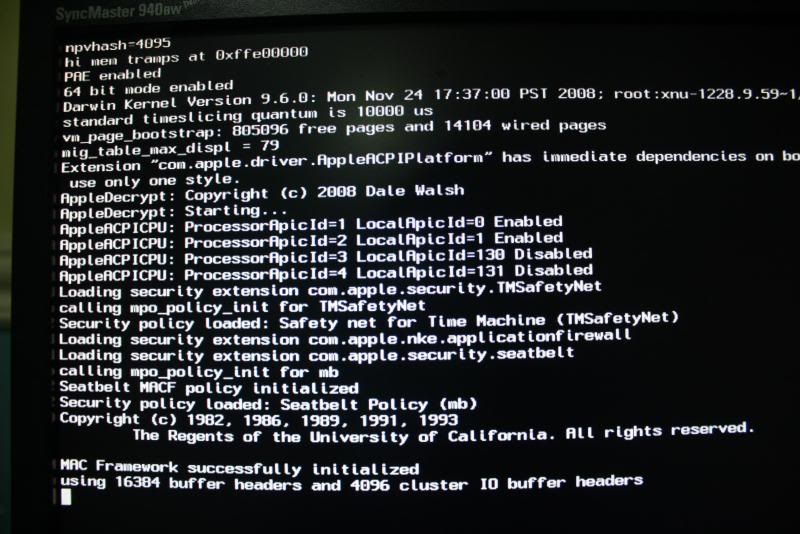 Anyone have any ideas or know what is going on here?
I am in the process of getting a copy of Snow Leopard 10.6 to try for the fun of it.
Any help is much appreciated.
Another Crazy Guy