I'd like to announce my iOS interval timer app.

The app is called FlexiTimer, and it is an extremely flexible interval timer, which makes it easy to perform time-based interval training (eg. HIIT, Circuits, Tabatas, Rounds, etc.), along with other forms of training/time-keeping (eg. MMA, weights, Yoga, etc.). I use it for my own training/tasks and find it useful.

You can get more details/screenshots/release notes at the FlexiTimer website and keep up to date by following the FlexiTimer twitter feed. There is also a discussion forum for the app.

A new update has just been submitted to Apple, adding support for timer creation wizards, to make creation of specific types of timers even easier (eg. HIIT, Circuits, Tabatas, Rounds, Pyramid etc.)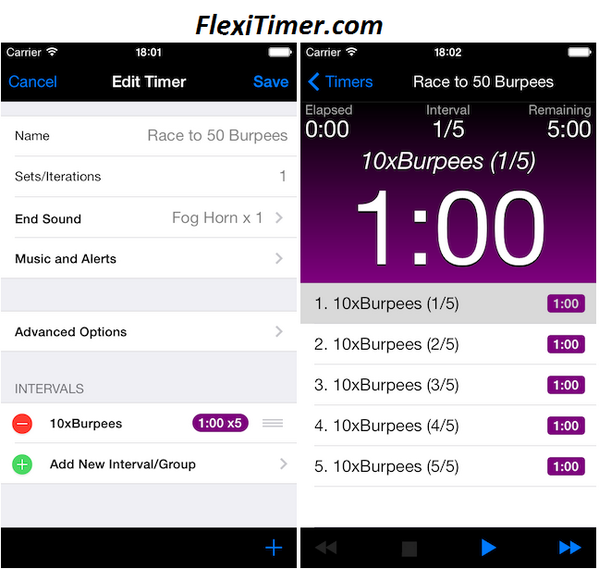 A summary of the features:
Easy to use and configure
Create and save Multiple timers
Timer creation wizards (eg. HIIT, Circuits, Tabatas, Rounds, Pyramid etc.)
Unlimited number of intervals/steps per timer (limited only by device, but essentially unlimited)
Run multiple timers simultaneously
Powerful grouped intervals feature (create multiple groups, each containing multiple intervals). This makes creating complex timers easy!
Configurable number of sets/iterations for intervals, groups, and entire timer, independently of each other
Highly optimized timer engine to maximize battery life
Play different music for each interval, use same music for all intervals (with options for what to do when moving onto a new interval), or have no music
Configurable alert sounds for interval ending (including configurable duration, eg. last 3 or 5 or 10 seconds etc.) and interval ended/changed. Alert sounds can be different for each interval, or can be overridden with same sounds for all intervals)
Configurable timer ended alert sound (including ability to repeat alert sound multiple times). Each timer can have a different timer ended alert sound
Large timer display in detail view, and even larger display in Landscape
Colour display differently for each interval
Skip to previous/next interval, or skip to any interval
Pause timers
Runs in background
Many more features are planned, including timer sharing and voice prompts. A version 3 major update is in the works with even more new features (will be free update)

The app normally costs $6.99, but is currently on sale at $4.99 for approx. 2 weeks.

Would love to hear any comments (good and bad) and suggestions. If there's a feature you want to see added, let us know about it.

I would also greatly appreciate any help in spreading the word about it (eg. on social media), and if you like it please consider leaving a review on the app store when you have the time.

If you got this far then thanks for reading!