I've tried the memory in this configuration as well. Still no video/no beep codes. The only way I've managed to get beep codes is with the memory fully removed.
Here goes, let me know if you need more visual detail on anything.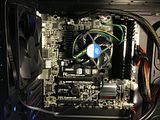 Thanks so much for your help on this.
EDIT: Monitor is hooked up via onboard DVI connector and I'm not getting any video at all. No post.