I am pleased to say there's been a break through!!!!!
I don't know if it's anything big yet, it needs some tweaking by more skilled people than I, but I think it's a start on the right track!
so here's what I did step for step.
(do a Time Machine Backup before you do this!!!!!)
I was in safe mode in Snow Leopard when I did this.
delete
from the S/L/E folder
NVDANV40HAL.kext (make a backup of it)
NVDANV50HAL.kext (make a backup of it!)
NVEnabler_64.kext (if you have it loaded)
the only NV kexts you should have are
NVEnabler.kext
NVinject.kext
Natit.kext
once they are applied with the kext program,
go to
/Extras/Extensions and copy your com.apple.boot.plist to the desktop
edit it so that it looks like this
<?xml version="1.0" encoding="UTF-8"?>
<!DOCTYPE plist PUBLIC "-//Apple//DTD PLIST 1.0//EN" "
http://www.apple.com...yList-1.0.dtd">
<plist version="1.0">
<dict>
<key>Kernel</key>
<string>/Extra/mach_kernel</string>
<key>Kernel Flags</key>
<string>arch=x86_64</string>
<key>dsdt</key>
<string>/Extra/dsdt.aml</string>
<key>Legacy Logo</key>
<string>No</string>
<key>Graphics Mode</key>
<string>1440x900x32</string>
<key>Default Partition</key>
<string>hd(0,2)</string>
<key>Timeout</key>
<string>1</string>
<key>GraphicsEnabler</key>
<string>yes</string>
<key>PciRoot</key>
<string>1</string>
</dict>
</plist>
now
close everything out and reboot. When you reboot, let it go as far it can. It will most likely Kernel Panic on you. if it does, reboot again, except this time when the chameleon screen comes up, hit enter for setup options.
then type
-f -s -v and hit enter
a bunch of lines of code will pop up, just let it do it's thing. when it's completely done it will give you a few lines of code, then it says if you're done to exit.
type
exit and hit enter.
now hit the down arrow key on your keyboard (you might have to hit enter after hitting the down arrow key) and watch the magic!!!
a bunch of crazy stuff will start happening, it should boot into windows, once it does click your apple icon on the top left corner, click About this MAC, then go down to Graphics/Display and verify.
Before I did this mine was showing:
VRAM: 32MB
afterwards as seen in the picture it's now showing the accurate
VRAM: 512MB
Now to confirm it's good, close everything, reboot, and it should boot back into Snow Leopard on it's own without any error messages!!!!
Here's the proof in the pudding!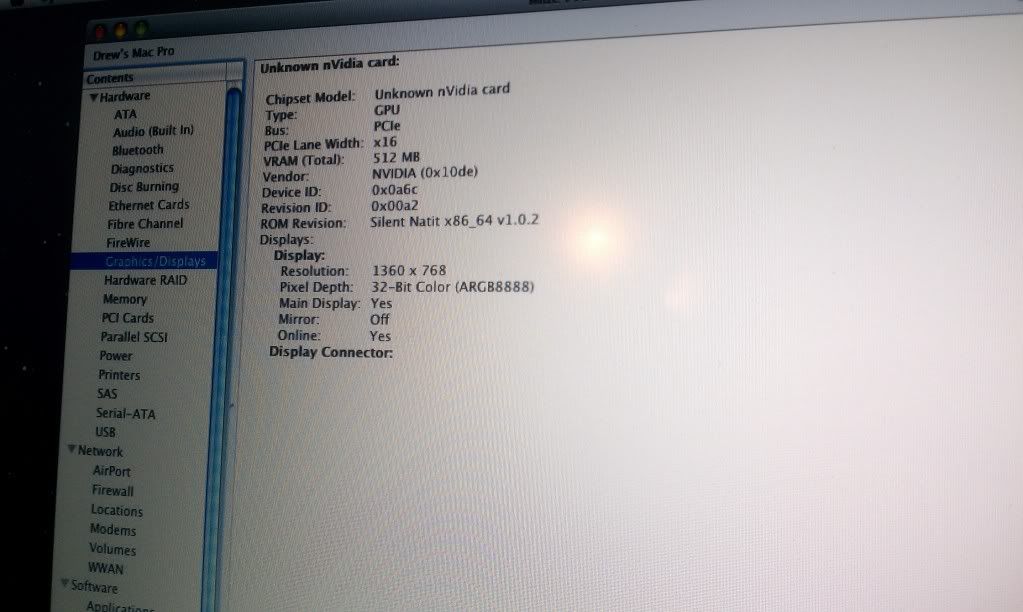 this isn't the full on end all fix, but we're headed back in the right direction.
I tried to go to youtube.com and I couldn't watch any videos on there, I could only hear the music. I attempted to update my flash player but it said it was up to date. I cleared cache and internet files and restarted my broswer but that didn't help either.
I went to google and typed in flash games, but none of them I could see the picture on. so there's still some tweaking to do, but I'd venture to say this is might be a major break through on the NVDIA 3100M!!!!!
It will need the attention of those more qualified than I to iron the rest of it out.