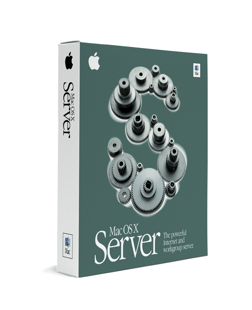 A little backstory. I recently acquired the following iMac (from my school. They were just going to toss it. Seems to be in amazing shape):
iMac G3 700Mhz
256MB RAM
60GB HD
Airport card installed
I also got Mac OS X Server 1.2 from a friend & attempted to install it. Came across some issues/questions & was wondering if anyone had any luck doing something similar:
1) Booted from the Mac OS 9.2.1 CD
2) Partitioned the HD in half (MacOS & Rhapsody drives)
3) Installed 9.2.1 on the MacOS drive
4) Installed the 9.2.2 update on the MacOS drive
5) Rebooted using the MacOS drive & finished the setup & configuration process
6) Inserted the Mac OS X Server 1.2v3 (or either 1.2, not sure which one it is) disc.
7) Opened up the disc & located the "System Disk Utilities" folder
8) Copied the
"System Disk Extension" to the Extensions folder &

"System Disk" to the Applications folder.
9) Opened System Disk (to make sure that the install cd was ok) & saw this: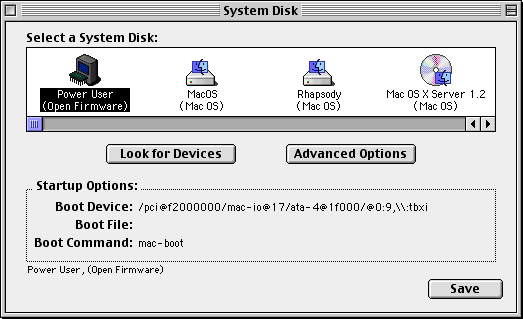 10) Opened "Startup Disk" to make sure & saw this:
11) With everything looking ok (and all drives present and accounted for), I opened "Mac OS X Server 1.2" disc & clicked on
"Install Mac OS X Server"
12) I enabled "Install on unsupported configurations"
13) I followed the on-screen instructions, selected the "Rhapsody" drive & then selected doing a custom installation.
14) It then said something along the lines of "Configuring your computer to start up from the Mac OS X CD" & then restarted
15) The computer restarted & I heard the the cd starting to spin. I just saw the flashing question mark/face folder icon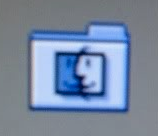 & then it booted into 9.2.2
16) Followed the same tests as before & saw these this time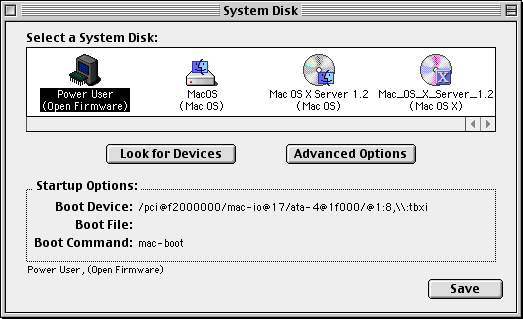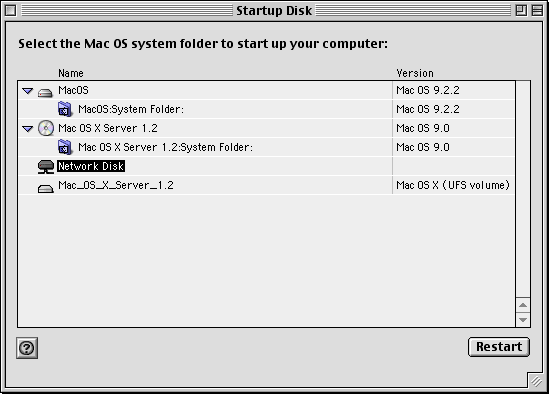 The Rhapsody partition is no longer showing up. The Install Disc still looks ok though.
When I got to the installation process & was selecting the Rhapsody disk, it said something like "Previous Selected Install Partition". It then gave the same preparation message as before and it now said "To continue installation, click restart". I hit restart & then it show the flashing folder icon again & then booted into 9.2.2.
18) I rebooted the computer, while holding down the alt key & only saw this icon (I recreated it. No possible way to take a screenshot of that screen)

I clicked it & Mac OS 9.2.2 booted. Throughout the entire process, I have not removed the Mac OS X Server Install Disc.
Since the "Rhapsody" partition won't mount anymore, I booted into FireWire Disk mode & connected my iMac to my MacBook Pro & opened Disk Utility. It shows the partition as this:

I then erased the Rhapsody partition & set the format for Mac OS X Extended. That's where I stand. Any help would be greatly appreciated.