I first fell in love with the design of the PowerMac G4 in 1999. 11 years later I still love it, and I've always wanted one. So I grabbed a partial G4 off eBay (everything but the logic board, psu, and hard drives) and built what I think turned out to be a decent hackintosh case.
For starters, I reused all my old hardware:
Gigabyte GA-MA78GM-S2H Rev 1.1 motherboard
AMD Athlon X2 4400+ socket AM2
Thermaltake 430 watt powersupply
XFX 9600 GSO 768 MB (really just an 8800GT with 192bit memory)
1x 160 GB sata wd hard drive
2x 80 GB ide wd/seagate hard drives
My old case was originally a gateway case that had its logos removed and was painted white and black to cover up the beige, and since noone really ever saw it, it didn't matter. However, since I would eventually be going off to college I thought now was a good time to look for something less embarrassing to have sitting in a dorm. The goal was to keep it as stock-looking as possible. The G4 has proven to be a very attractive case and everyone who has seen it, loves it.
Front Panel, with LED, Power Button, and Reset Buttons wired using original Apple hardware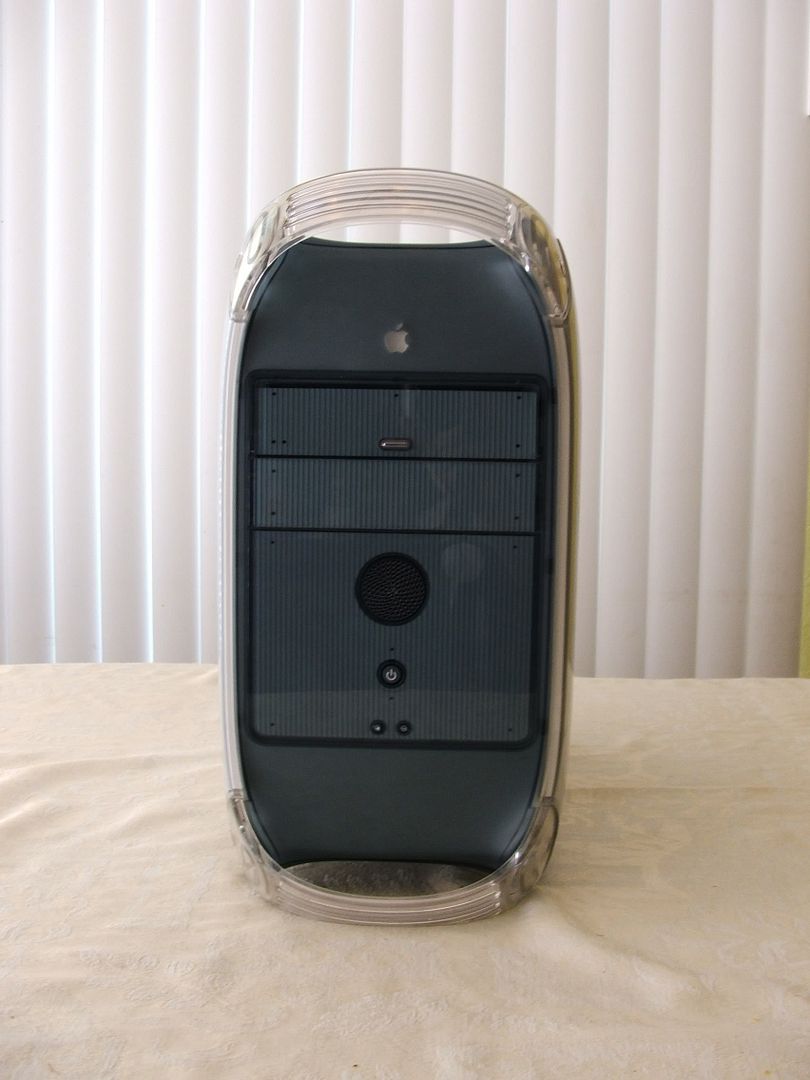 Front Quarter
Rear Quarter
Rear Panel, kinda messy and needs an I/O plate (something I'll do next time I have to remove the mobo, as its a PITA to do)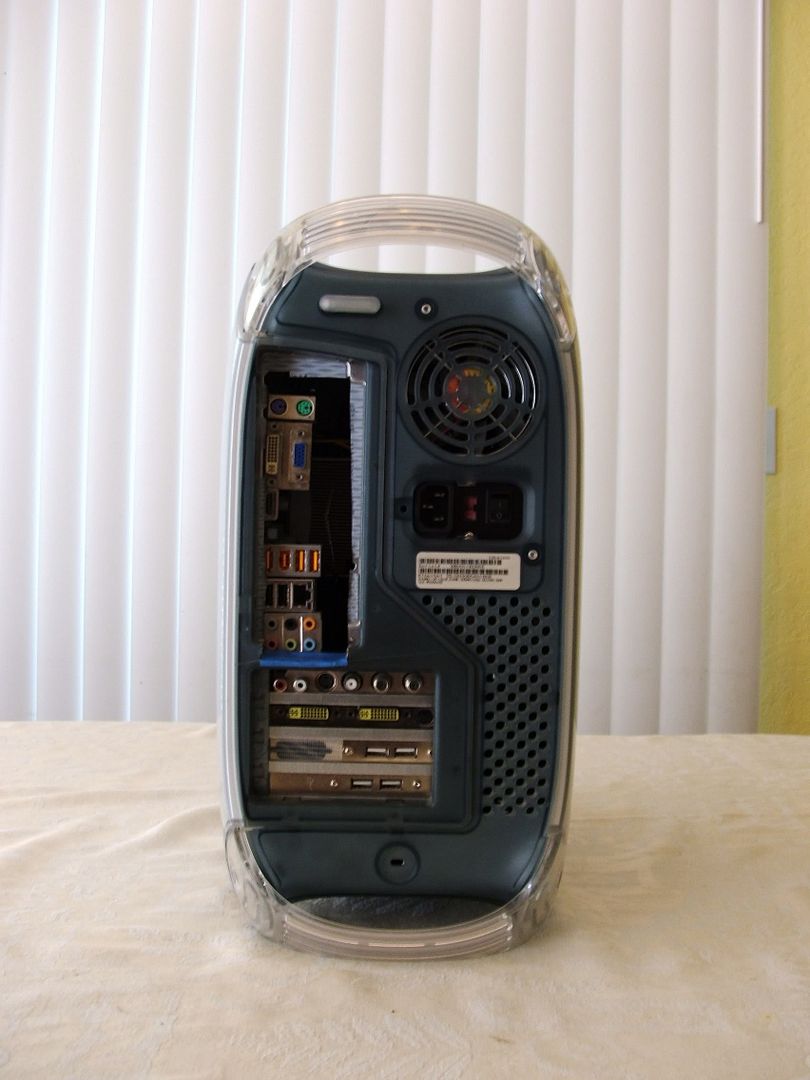 Side Door
Motherboard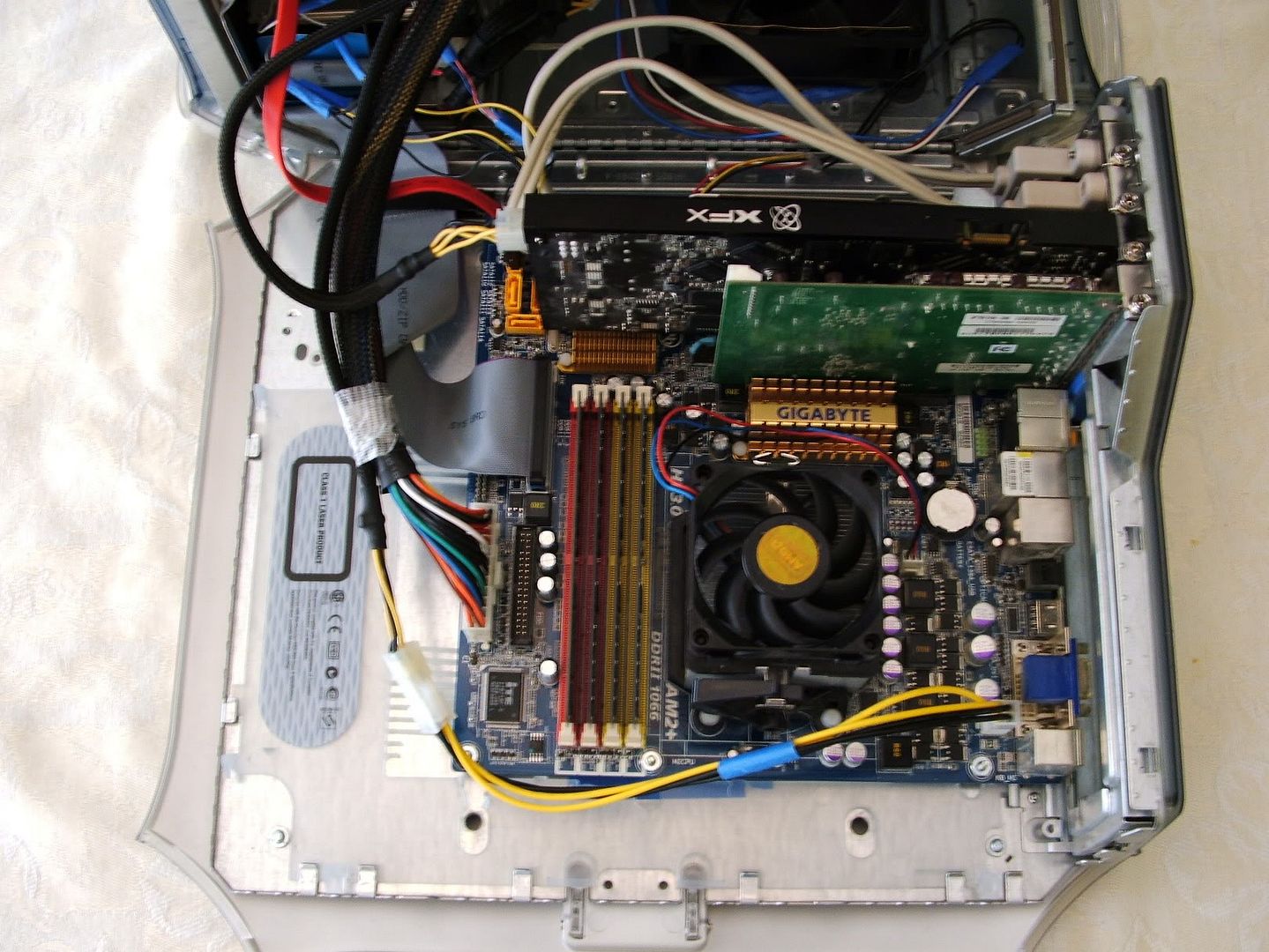 Internals
More Internals
IDE Hard Drives
Bottom Intake Fan, the only hole I ended up cutting into the case (besides the rear panel)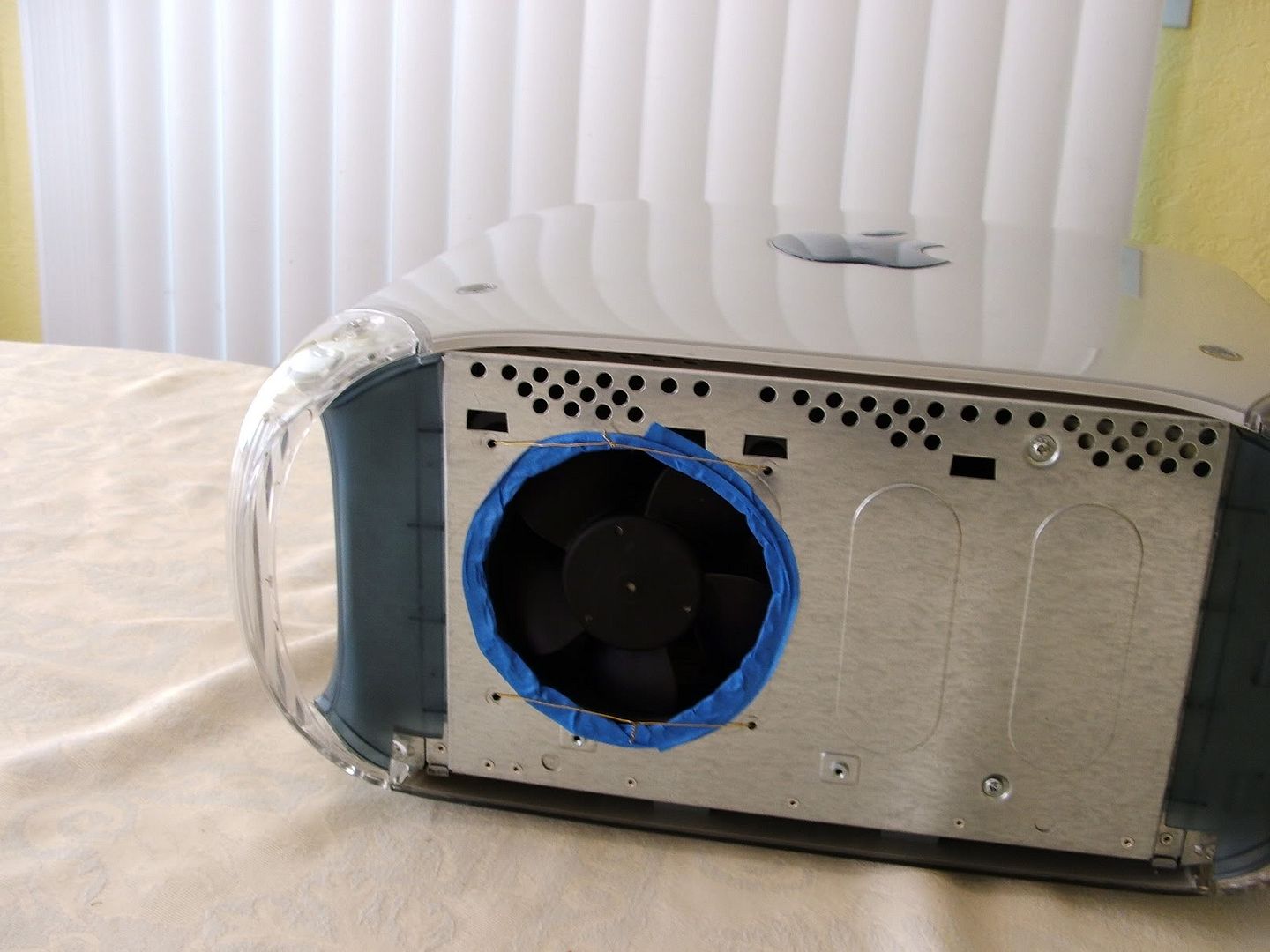 Front Bay Exposed
Bad Image of LED (its brighter than it looks, but still not as bright as stock) I had originally planned on making a tutorial, but considering I ended up blowing through this whole thing in a little under 10 hours, I didn't feel like a full step-by-step set of photos was needed with all the resources already out there. Besides other peoples postings here on InsanelyMac, I got alot of answers from
here
, and used the same motherboard mounting method as him.
My advice for anyone looking to do this: buy as complete a case as you can (mine came with all the wiring for the front panel and even a wifi antenna), watch your eyes and fingers (I used goggles and gloves for all the dremeling and cutting but still got a few minor cuts had sore fingers for a few days after), and research as much as your can before you lay out a plan (figure out your goals, and create steps to reach them). I used only a power drill with a few small bits (for drilling out rivets), a hacksaw (for the drive cage), and a dremel (for the I/O plate).
What's completed:
Motherboard fitted
Front panel works (kept stock)
PSU fitted (original mounting holes)
PCI slots fitted perfectly
Hard drives fitted (IDE drives stacked using strapping tape, sata fits in zip drive tray)
Front speaker connected to motherboard for POST beep/high cpu temp warning (small Apple speaker is quieter than old case speaker)
Ventilation via rear fan and PSU fans seems to be adequate (motherboard reads 40c after 1 hour, old case read 37)
What needs to be completed/modified:
Rear I/O panel needs to be covered
Heatsink needs to be replaced, the stock 57mm tall heatink/fan only clears the PSU by 8mm and does not cool very well (currently underclocked to 1.6Ghz to keep temps under 50c).
Thermaltake CLP0527 MeOrb
(47mm tall) is the most likely candidate, as soon as I have 50 free dollars.
Fill 5.25 bay with either a card reader/usb/firewire/audio panel, or fit an optical drive somehow.
I am very happy with how its turned out and my to-do list is short enough that I can sleep well.
EDIT: If anyone is interested in this case (or rig), feel free to PM me.