This is a tutorial for installing a completely updatable retail copy of Snow Leopard on the Intel DX58SO. I have noticed that there are a lot of people with this board that would like to upgrade to Snow Leopard but you have to try and adapt other motherboard tutorials to this motherboard. This tutorial is completely for DX58SO it may work with other motherboards but I'm focusing just on this one.
I would first like to give thanks to digital_dreamer for his tutorial on the Gigabyte GA-EX58-UD5 which is the major contributer for getting Snow Leopard working on the DX58SO, we are going to be using his patch installer which is tweaked slightly to accommodate the DX58SO motherboard, and here we go!
Before we start I just want to say that I have used this method on two Hackintosh's with the same specs using the same motherboard, and both installs went flawlessly, my specs are...
Intel DX58SO motherboard
Core i7 920 cpu
Nvidia GeForce 9800 GT
6gb OCZ 1333 ram
-First of all you are going to want 2 hard drives, this doesn't mean 2 partions, but 2 physical hard drives, we will call the hardrive that will ultimately have SL on it your primary drive and we will call the other your secondary drive, this will have iAtkos or any other previous version of leopard on it.
-Now that you have 2 hardrives you will want to go to your motherboard bios and change a few things,
-Change CPU Cores to "1"
-Turn Hyperthreading Off
-Under the Advanced tab go to drive configuration and change IDE to AHCI
You will be able to turn your cores back to all and hyper threading back on after the install finishes.
-now you want to make sure that your secondary drive is set as your first boot drive in the boot order.
-You will want to proceed with installing iAtkos 5i on this drive, I use this because its an easy install, here is a short tutorial for getting this installed
http://www.hackint0s....htm#post411526
-now that we have iAtkos installed we want to boot into Leopard. Make sure both drives are connected at this point, but use the Secondary drive as the first boot drive.
-Once booted into IAtkos insert your retail Snow Leopard DVD into your dvd drive or mount your iso to the desktop, The iso method is slightly faster.
-With the DX58SO Mobo Patcher, click RUN-PATCH_INSTALLER and type your password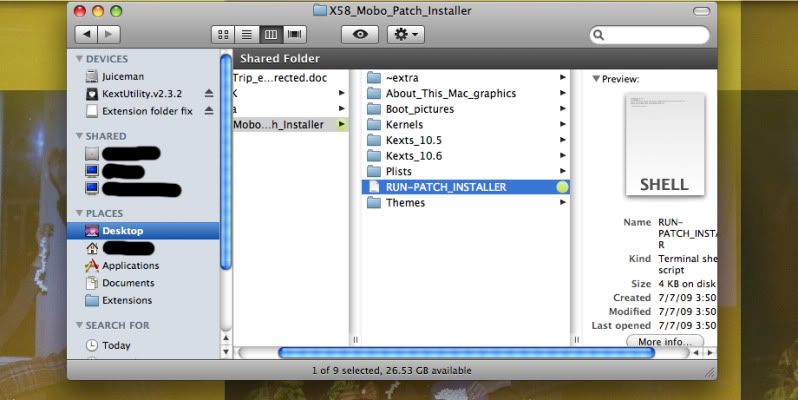 -Now choose the primary hardrive where you want to install Snow Leopard, make sure you have formatted it with GUID Partion Table partion scheme in Disk Utitlity.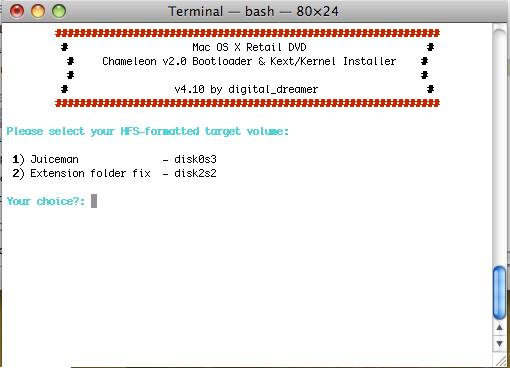 - Next you will want to choose your install type, I choose EFI Partion
-Now you will be at the main page where you can have a lot of fun customizing your install but first we should focus on getting SL installed and working.
-type 1 and press enter, this will go through the whole install process so you don't need to worry about forgetting something important
-You will now need to choose your bootloader, I choose Chameleon 2.0 RC3 since it now supports SL
- You will now be asked if you would like to set target partion as active, this is really for /extra install type but I choose yes anyway, this doesn't change anything because EFI has to be active partion
-Now if you have your retail SL DVD in your DVD drive or your ISO mounted it will open it up to start installing SL on your primary Hardrive, "IMPORTANT" make sure before you start installing the SL you click customize and unlick all of the extra installs, they will cause issues and your install will fail. you can install these after you have installed and booted into SL by opening your iso or dvd and clicking the optional installs folder then optional installs.mpkg
-after SL installs, you will want to continue with the patcher.
-The kext installer will now install all of the appropriate kext for the Intel DX58SO, if you want to add additional kext, navigate to the kexts_10.6 folder and add where you need them, you can find additional kext in the _repository folder inside each category, this is important if you are using a video card other than an Nvidia card.
-Now the installer should update boot caches automatically.
-The next step is the dsdt patcher, run this and you are practically done!
-Now the patcher should be done and you will want to test out your new system!
-Restart your computer, and change your hardrive boot order to boot the primary hardrive with your new SL install.
-you should be able to hear the music as it shows the flying words in other languages. More than likely your video will look choppy and ugly but at least you have sound with first boot!
-Fill out the required information, now you should be on your desktop.
-This step is for your video card, so that you can have full use of your video card including Quarts Extreme and Vram.
-Download the OSx86Toools below, and open it, click Add EFI String/Boot Flag then click GFX Strings at the top, now choose your graphics card, if your card is not in the list and you have a GeForce card click Custom GeForce, type your password and fill out appropriate information, after you have done this click Import String to Boot Editor at the top.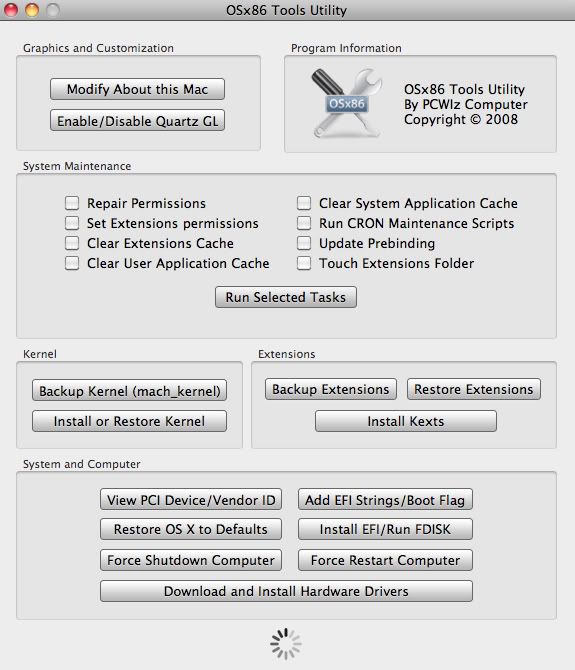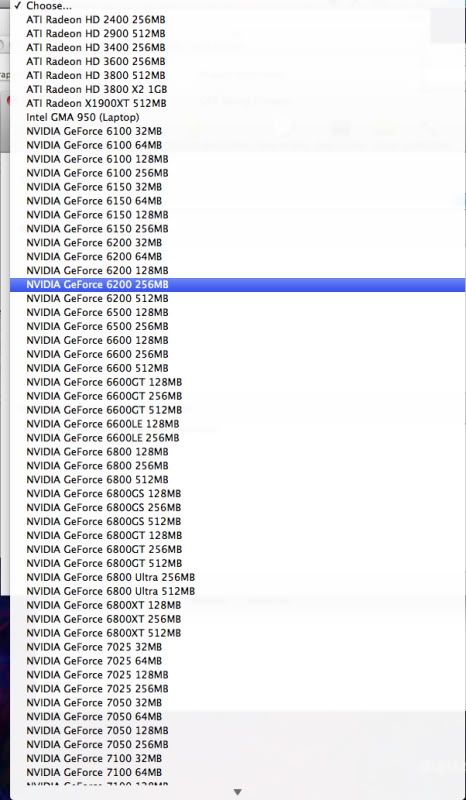 -now you should see your string at the bottom but before you leave this page set any additional information you would like, I prefer to set my resolution. Now click Apply changes to com.apple.Boot.plist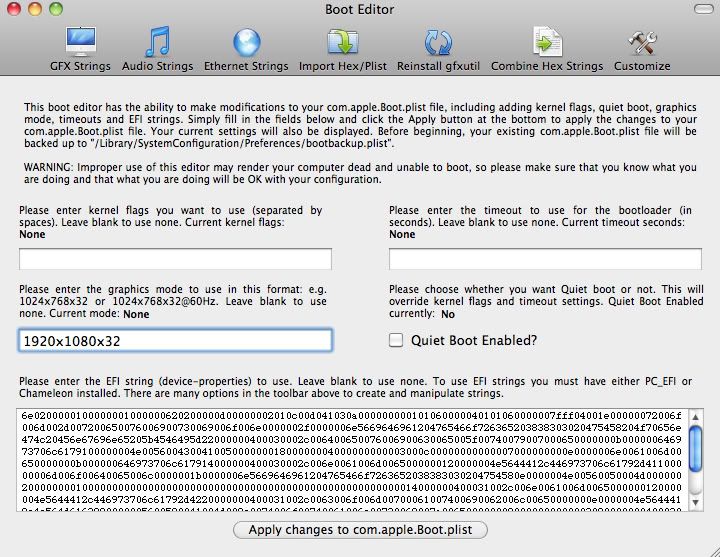 -Restart your computer and you should be fully up and running make sure to check system profiler to make sure your graphics card is fully operational.
-At this point you can go back to your bios and turn hyper threading back on as well as turning cores back to all.
This is a website that has a number of kext that are working on Snow Leopard
Snow Leopard Kext's
And that is it! This is everything that I did to get my 2 systems up and running I hope that this helped some other DX58SO owner out there!
If you have any other questions or comments, im sure that they are answered or more thoroughly explained in digital_dreamers tutorial, this tutorial is adapted for the DX58SO motherboard.
digital_dreamers tutorial
I would like to give thanks to some people that made this whole install possible, and that have helped the Hackintosh Community in so many ways!
-digital_dreamer
-Chameleon team
-osx86tools team
and im sure many others but cant think of them at this moment.
These are the files you need to download to use this tutorial.
Intel DX58SO Mobo Patcher
<----Updated 10/6/09
OSX86Tools