Are you sad that your QuickTime X does not record system sound....But Fear not...my very good friend "google" helped me solve this problem:-

1. Download Both Attachments (no Duh!)

2. Install "SnowLeopardSoundflower.mpkg"

3. Install "Soundflower-1.5.1.dmg"

4. Run "Soundflowerbed" application found in /Application/Soundflower, now you should see a little flower in the top right hand corner of your menu bar.



5. Click on the Flower and under "Soundflower (2ch)" click on Built-in Line Output and leave "Soundflower (16ch)" OFF (you can also use 16 ch. too but its mostly for more complicated outputs)

6. Open up System Preferences --> Sound --> Output....You should see "Soundflower (2ch) and Sound flower (16ch)...go ahead and click on "Soundflower (2ch)"

7. Open QuickTime X --> File --> New Screen Recording and now click on the little Triangle to bring up the Drop down menu and then select "Soundflower (2ch)"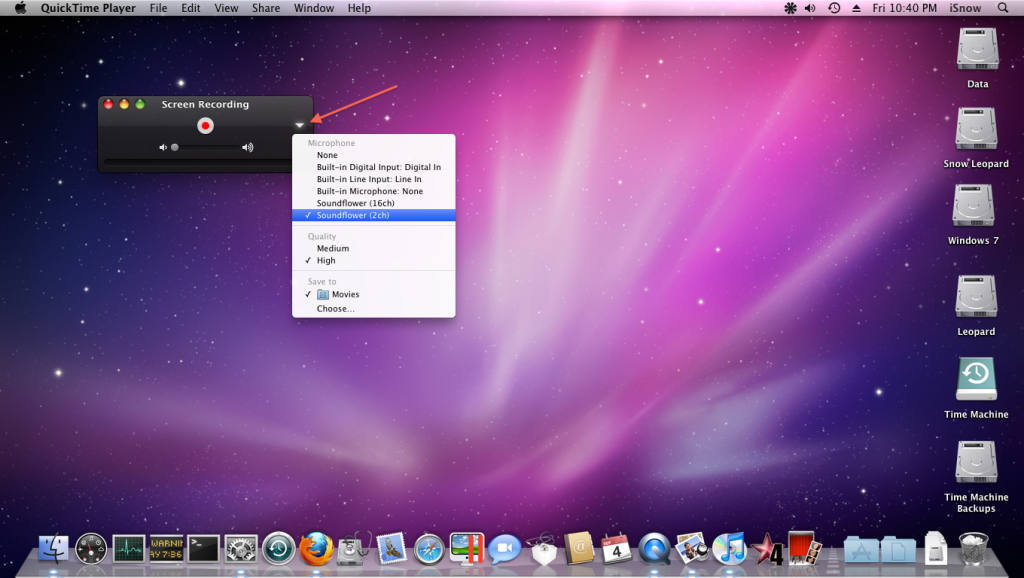 8. Keep the volume to minimum in quicktime while recording videos or else it will cause echoes (sorry i don't know why...i'm not an expert on this
)



Note:- IF INCASE 2ch DOES NOT WORK FOR YOU THEN TRY 16ch (just replace 2ch with 16ch in very step above)

This is it
if you followed the steps correctly then you should not have any trouble recording system audio with video! Enjoy

any questions and comments are welcome
Update:- If you are experiencing crashes or no sound after about 10-15 mins than Remove "JackRouter" from /Library/Audio/Plug-Ins/HAL/JackRouter and restart your computer.
I would say Stick It