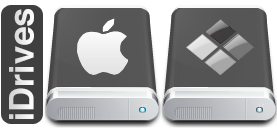 Download:
iDrive_X_Tras.zip
678.2KB
369 downloads
About iDrives X-Tra Pack

First and foremost, I want to make it clear that I am

not

the creator of iDrives. This pack contains additions to the original iDrives set made by:


Bartlme Design

© 2005 (http://http://www.bartelme.at)

Contents
This pack features icons aimed at those who are dual booting both Windows and Apple OS X on the same system. In addition, it contains replacements for the Disk Utility and Installer apps, in order to maintain coherence in over-all style. I also included a replacement for the popular program, gDisc.

Sources Used
This icon pack is to be used with the original iDrives Iconset found on www.bartelme.at and is not a complete set in itself nor does it claim to be original in design. Some of the icons within this set are actually unmodified versions of the original set.

Final Credits
- Original iDrive set by Bartelme Design © 2005
- Additional icons by Takuro

Updates
- Saturday, May 20 2006 - Created black versions of each icon.