I've built an installer package of OS X Leopard 10.5.6 drivers for the HP 8510w Laptop. It's aimed at Retail DVD installations as that's what I prefer although it
should
work with custom distro DVD's such as iPC, iDeneb 1.4.
The installer does a backup before installing each kext by appending the suffix HexBackup to each kext and bundle so you can manually restore things which break.
Whats working in v1.1:
Nvidia Graphics - Quadro 570M with full QE&CI at 1920x1200
Sound with Azalia kext
Ricoh Cardbus slow boot problem solved
Sleep - not perfect but works (hibernate doesn't work yet)
Ethernet adapter
PCI'e Wifi cards - which IO802Networking has drivers for such as the Broadcom/Atheros cards etc
USB fixes - UHCI, EHCI and OHCI should all be fully functional
Whats not working with v1.1:
Cardbus cards
Smart Card Reader
SD Card Reader
Intel Wifi - 4965G I think it is
To install do the following:
Install Leopard 10.5.6 as normal via DVD (or OSInstall.mpkg from another partition etc)
Before you reboot somehow get my file "HexHex_HP_8510w_10.5.6_Driver_Installer_v1.1.mpkg.zip" to your PC via USB disk or something
Run the installer and select the required drivers and then reboot: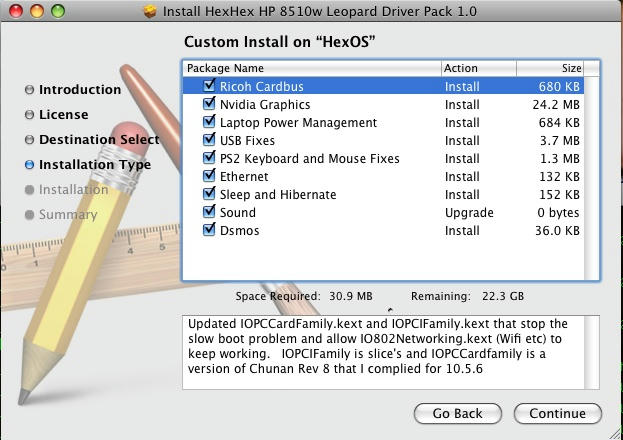 For those of you who have already installed OS X (10.5.6) them simply run the installer and then reboot with -f -v boot flags. If you have questions/requests look for me in IRC, room #hackint0sh on
irc.osx86.ru
In the next version I'll probably add Chameleon 2.0RC1 to install itself in the hidden EFI partition and provide a hacked bios image for getting non-HP "approved" Wifi PCIe cards to work.
Good luck but don't forget it's only version 1.1 so let me know of any bugs,
Hex
To get the installer (10mb) package go here: http://www.mediafire.com/hexhex