Updated April '08
This is not a full tutorial yet - I need more pix, but taking down my daughter's computer to take more pictures would put my family harmony at risk, so I'll start here with what I have...
First of all, MrFlooD has a great topic that speaks of the hardware and software required for this project:

Build a Perfect Mac for less than $250

I am using the D945GCLF2 (NewEgg has them for $82 bucks), and (as mentioned below) a 90W picoPSU, along with a 2 gig stick of RAM, and an inexpensive SATA HD. =note= Post 41 has details about using the original Cube power switch.

Also, instead of the install originally mentioned in MrFlooD's guide, I'm using iSynapse's guide: Intel D945GCLF2 10.5.x Retail Installation, Drivers and Guide v2.5, only I didn't build my own DSDT, I picked OcciJano's DSDT up from Dr. Hurt's thread. No more video pointer artifacts, 100% running. All apps work. 10.5.6 retail install. I used an external USB DVD drive to do the retail install, since the built in drive doesn't have a mechanical eject button.
I used the built in slot-load DVD Rom drive, hooked to the IDE port on the D945GCLF and slid a SATA drive into the drive slot... but I'm getting ahead of myself.
I started with a dead cube, purchased for $70 bucks that contained a DVDROM drive, took it apart (removing everything that wouldn't be needed - Cube motherboard, Power switch, Airport door, etc), used a
Rotozip
with an abrasive cutting wheel to cut off the heatsink...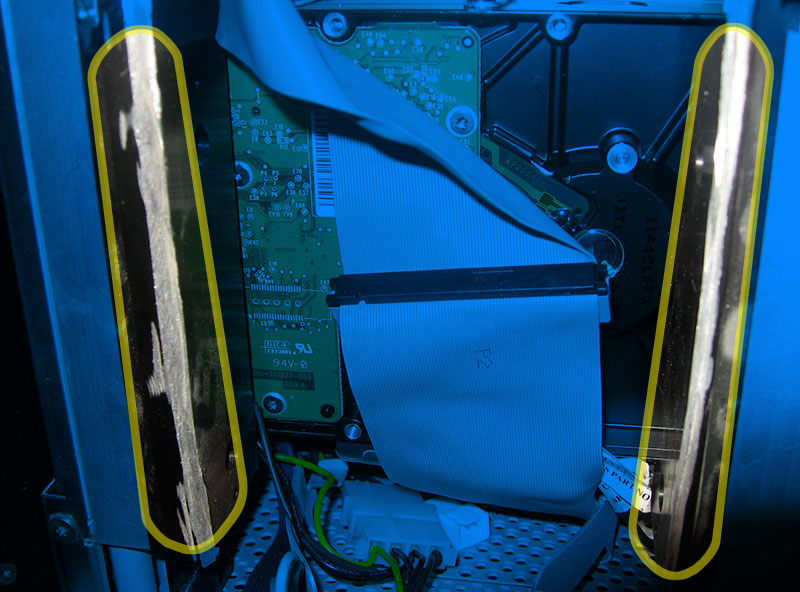 The
Rotozip
is like a Dremel tool on steroids. You could use a Dremel (
someone has
), but it will take longer. The cutting generates a lot of dust, so do this part outdoors and blow everything clean with some canned/compressed air afterwards.
I also used the Rotozip to cut a hole in the bottom to put the I/O plate in, but I didn't plan for the fact that the I/O plate is not centered on the board, so while my hole would hold the I/O plate, it won't line up with the board and I couldn't use it. I didn't need to cut away as much as I did... ARG!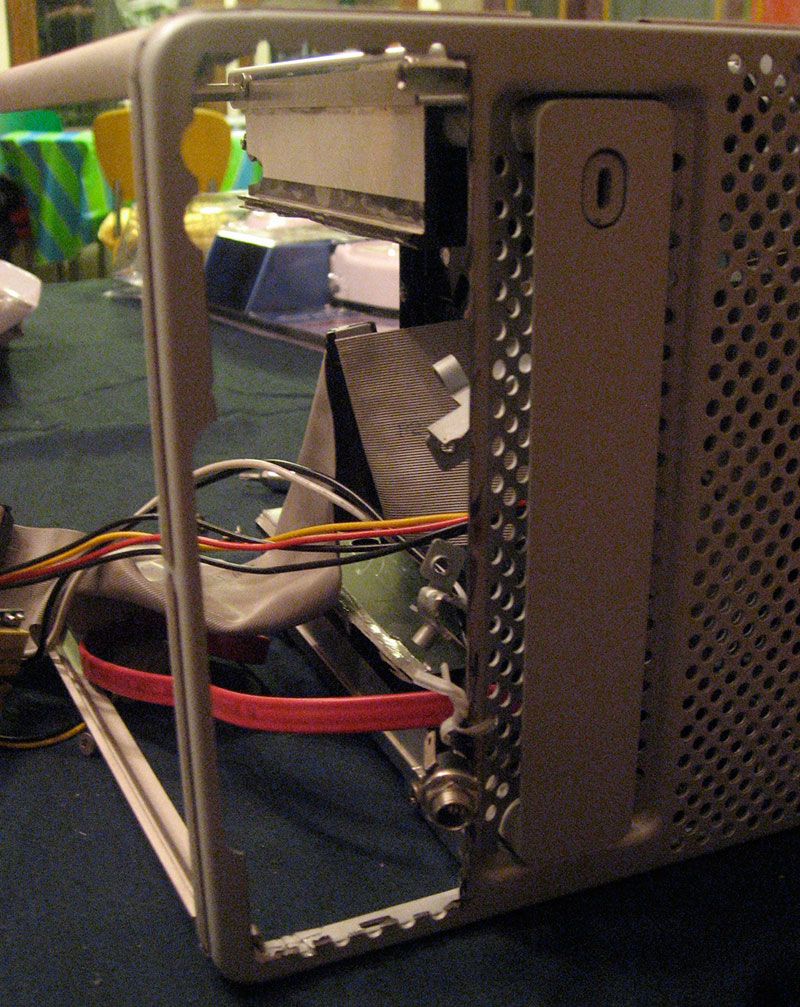 The board was just
a smidge
too wide to nestle between the top and bottom plates, so I used a pair of bolt cutters to nick a notch in the plates. If you don't have bolt cutters, a pair of strong side cutters would probably do the trick...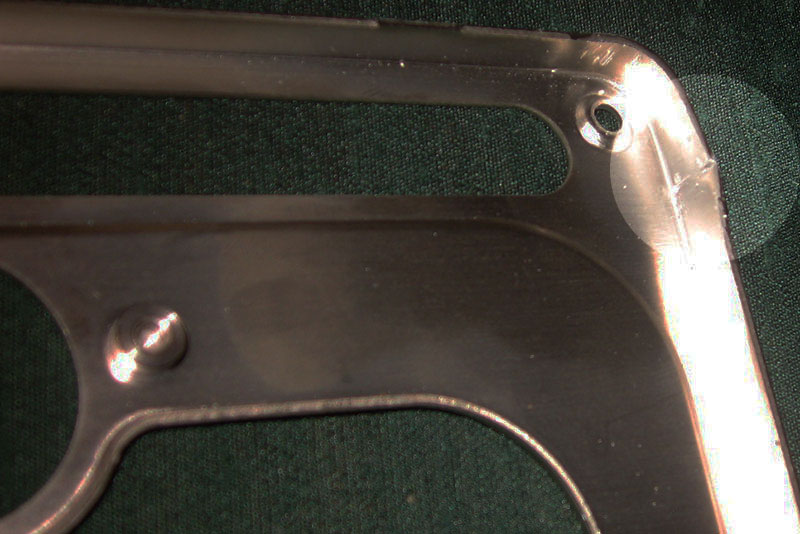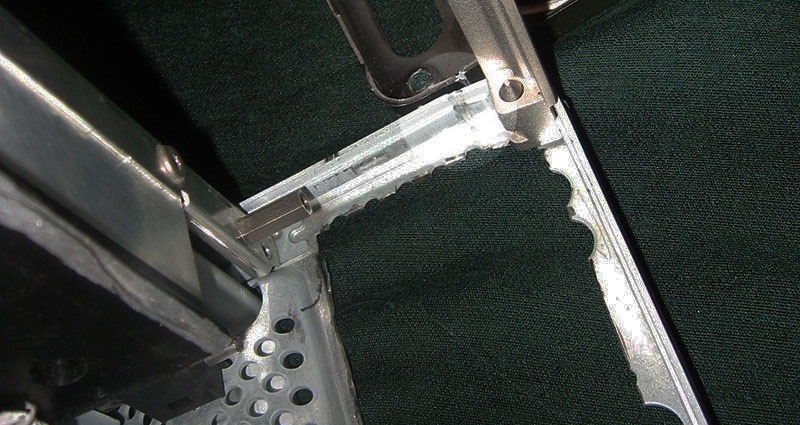 After sliding the board into these notches, I found it a
little
wobbly...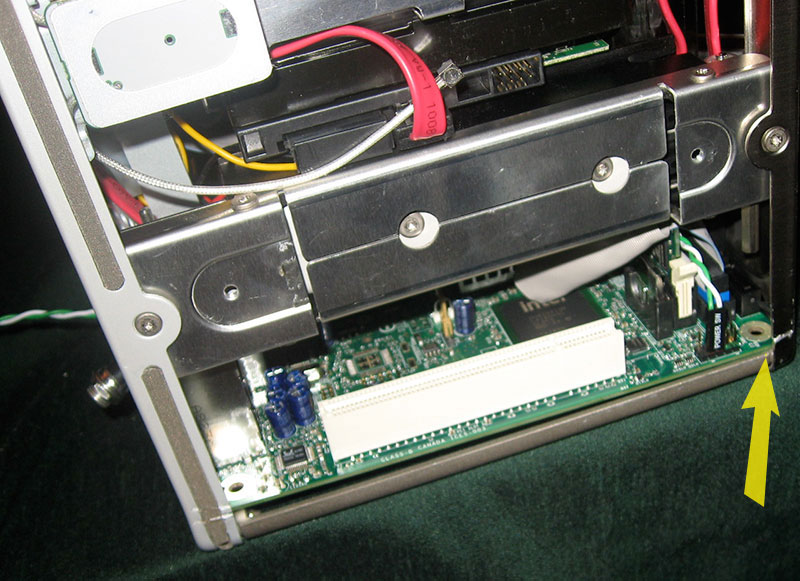 So I placed little squares of black electrical tape in each notch to provide friction to hold the motherboard (and to provide insulation).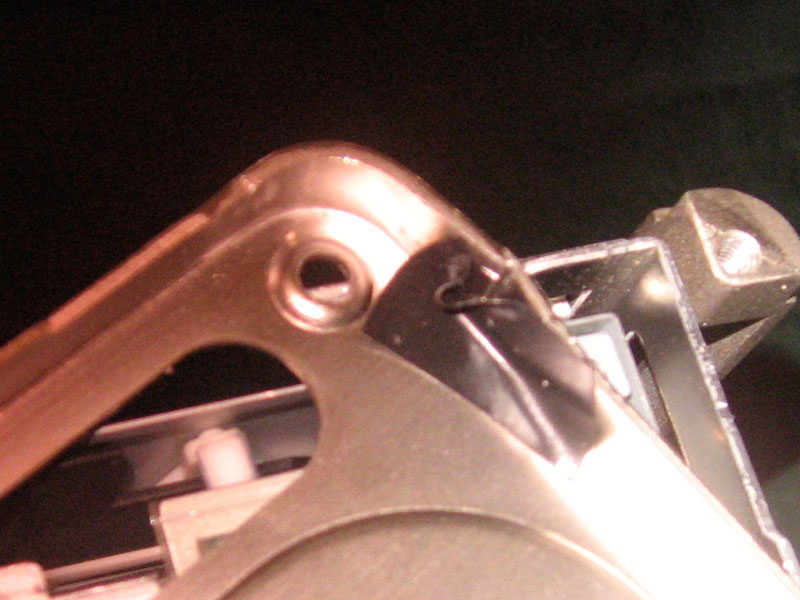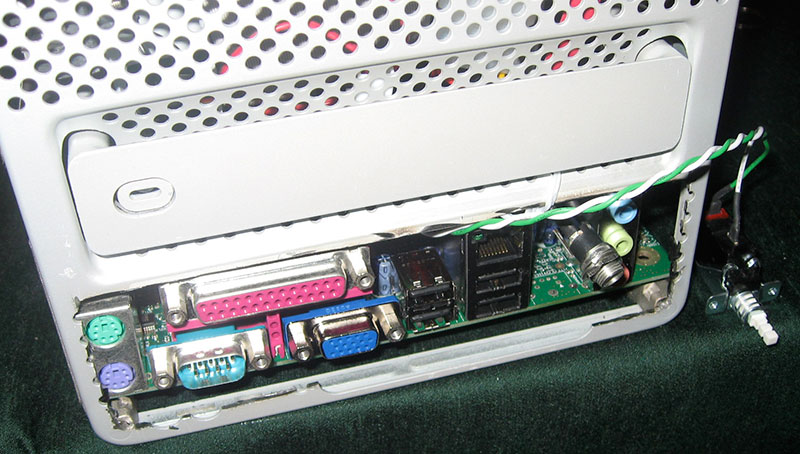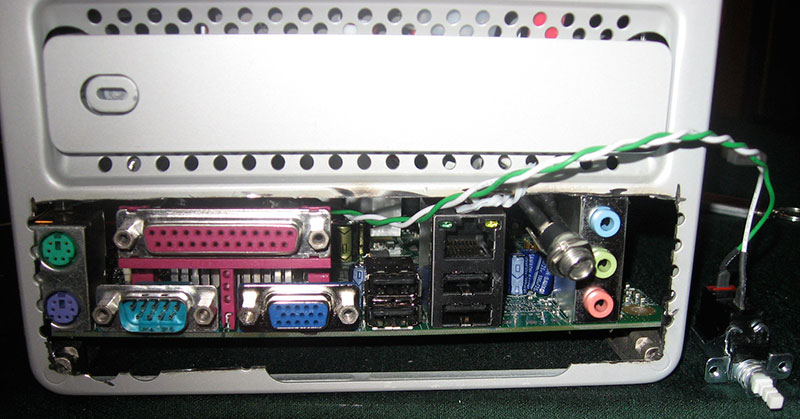 This is powered with an external brick via a
90W picoPSU
. The PicoPSU's wire connections just nestle into the hole left by the old cube power switch.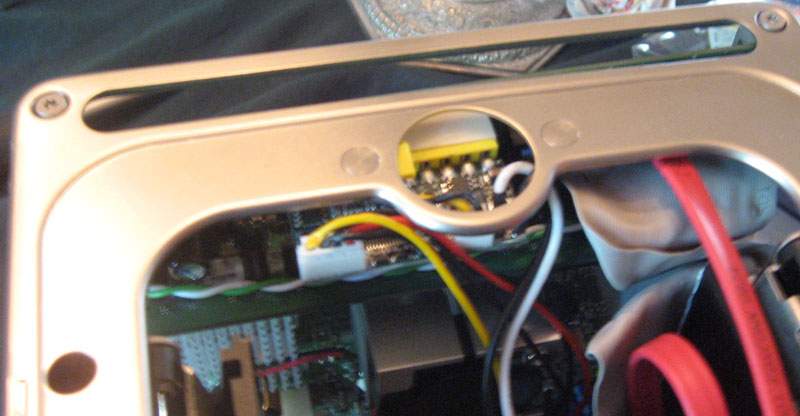 I used the existing hard drive mount to hold the sata HD and also the existing topload DVD drive. You'll have to use a longer IDE cable to reach the DVD Rom than comes with the cube. I think I used the one that came with the D945GCLF. Also, I used an old fan molex power tap to extend the DVD ROM's molex power cable by an inch or so. You can see a bit of that in the blue area of the picture above of the heatsink removal.
I had to run a pair of wires out the bottom to an external power switch, but... everything works except sleep... shoulda stayed at 10.5.3, I guess... (wonder if I put back the Sleep kernel? I think the 10.5.4 puts the vanilla kernel in place).
$102 Board and 1 gig of ram at Frys with tax
$50 160gig SATA HD
$50 PicoPSU package
$70 Cube case w/DVD drive.
------
$272 total...
not bad.
My daughter's 450Mhz G4 Cube XBenched at 28. This Atomic Cube's score is 49... wish it had a DVI out, but it runs Leopard just fine and my daughter thinks she's got the coolest computer of all her friends.
Lemme know what you think or if you have any questions...
Patrick