Yosemite Installer_EFI.app V1
Download Yosemite Installer_EFI.app V1
2
New OS X Yosemite Installer.app with Clover EFI
Only for UEFI Motherboard
What you need ?
Install OS X 10.10 Developer Preview.app ON Applications
Usb drive 8gig
Network connection
Hackintosh or Mac to create the drive
20 Minutes of Patiences depending the speed of your USB drive
Move to Applications Install OS X 10.10 Developer Preview.app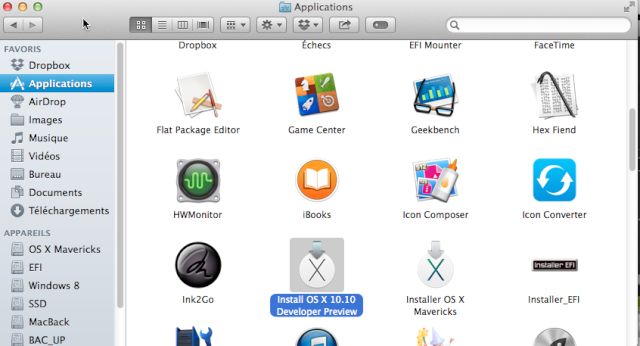 Change the setting on Preferance System / Security
drag to Applications Installer_EFI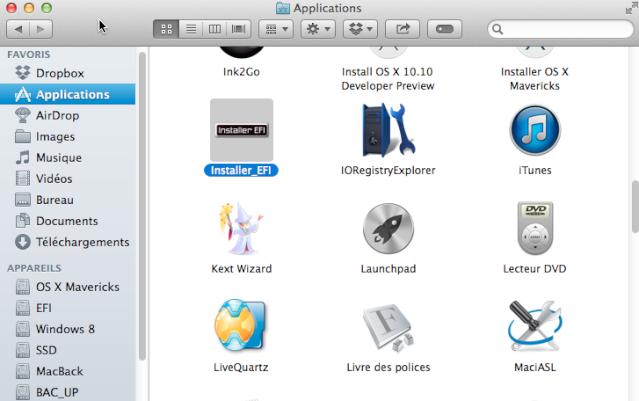 Start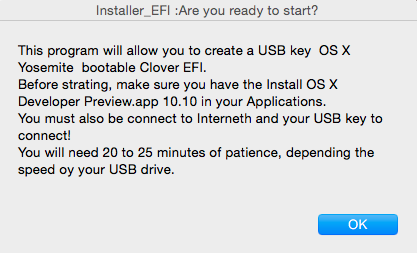 Selecting the USB to erasing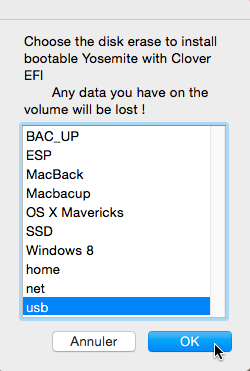 Selecting usbEFI
Result

Watching the Video here
CREDIT
Développeurs:
Slice, with help of Kabyl, usr-sse2, jadran, Blackosx, dmazar, STLVNUB, pcj, apianti, JrCs, pene, FrodoKenny, skoczy, ycr.ru, Oscar09, xsmile, SoThOr…
Code source, crédits et remerciement à:
Intel, Apple, Oracle, Chameleon, rEFIt and Xom.
Paquets d'installation crédit à:
Chameleon team, crazybirdy, JrCs.
Packager chris1111
485

Total Files

13

Total Categories

195

Total Authors

1,988,620

Total Downloads
ESP Mounter Pro Latest File

Micky1979

Latest Submitter
58 user(s) are online (in the past 30 minutes)
23 members, 34 guests, 1 anonymous users
azeezsk, Pehem17260, bropesda, andytang87, DDR786, ljubo, george22505, yachin0119, analogdesign, shneck, dodmango, crashmaster4999, 777Ricardo777, ologoo, Dark_Genius, micol, viljeml, vijaysimha, krol, giant_gorg19712002, clubx, alg810, mario_alop
Yosemite Installer_EFI.app