Mavericks Clover EFI.app V4
Download Mavericks Clover EFI.app V4
EDIT 01 Juily 2014
See change log

I have made this Installer Mavericks Clover EFI.app
This is the first .app He made bootable clover installer
README
WELCOME TO INSTALLER Mavericks Clover EFI
YOU WILL BE GUIDED IN THE STEPS.
​TO DO THIS, YOU NEED A MAC OR Hackintosh OR IF
YOU HAVE A MACHINE Virtuell, INSTALLER WORKS ON THIS KIND OF MACHINE.
A USB 8 gig KEY OR AN EXTERNAL VOLUME THATS ALL YOU NEED.
** IMPORTANT **
MAKE SURE YOU HAVE INSTALLER OS X MAVERICKS.APP IN YOUR APPLICATIONS.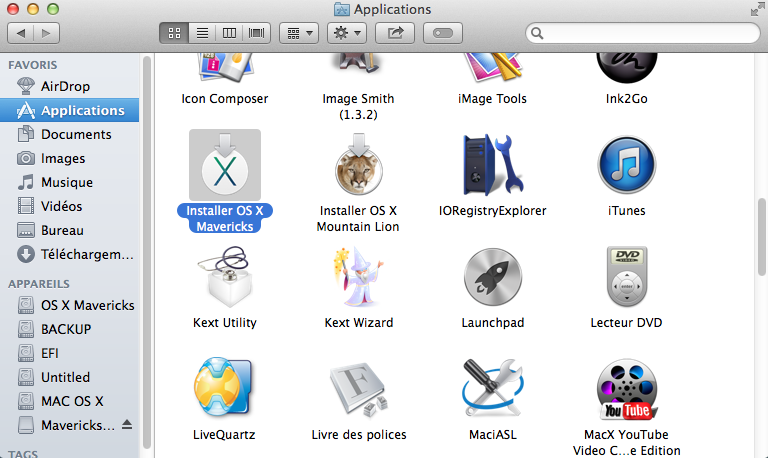 Go preferance System and apply
this setting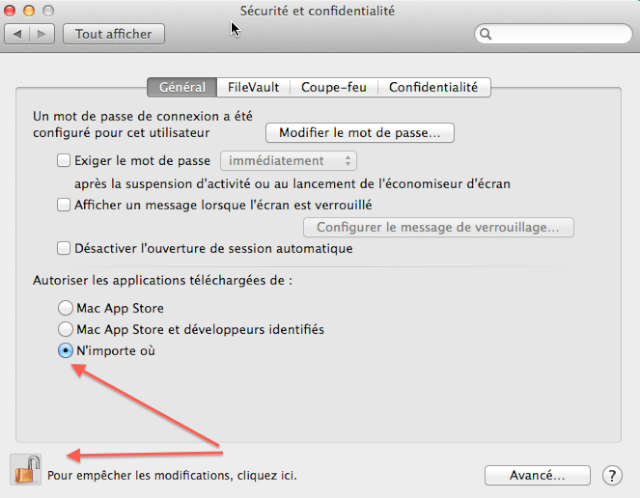 NOW MOVE THE INSTALLER Mavericks_Clover_EFI.app ON YOUR APPLICATIONS BEFORE STARTING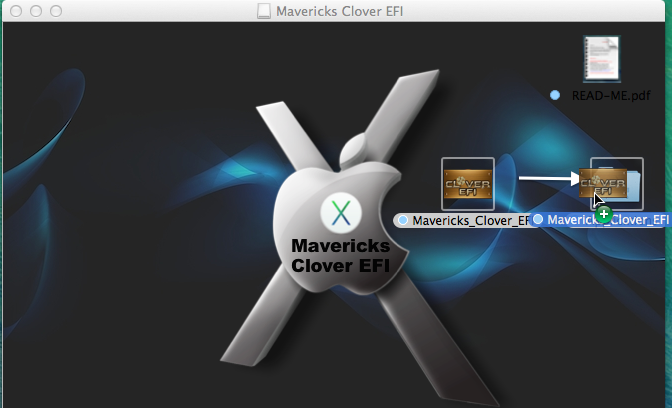 Not need to format the USB key in the disk Utility !
the script gonna be formatted Mac os extend / journalised/ Guid partition
STEPS-1 INSERT YOUR KEY USB
STEP-2
START INSTALLER AND FOLLOW THE STEPS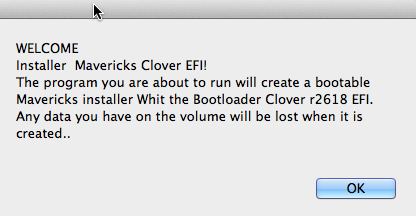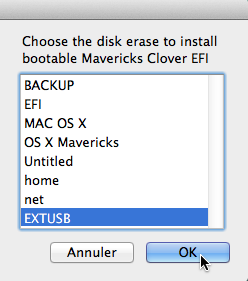 #######################################
Now Installer is opening
Select Standard Installation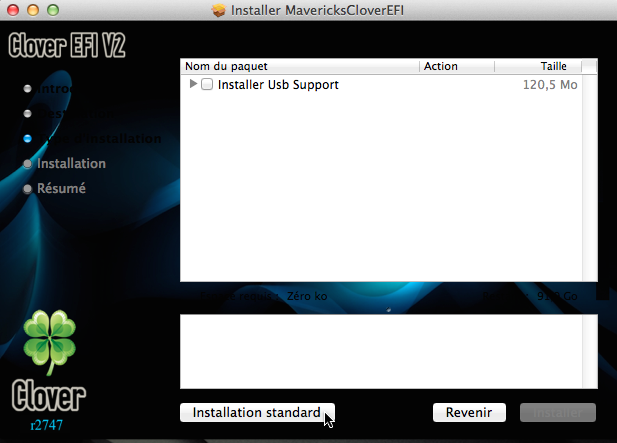 change destination to usbEFI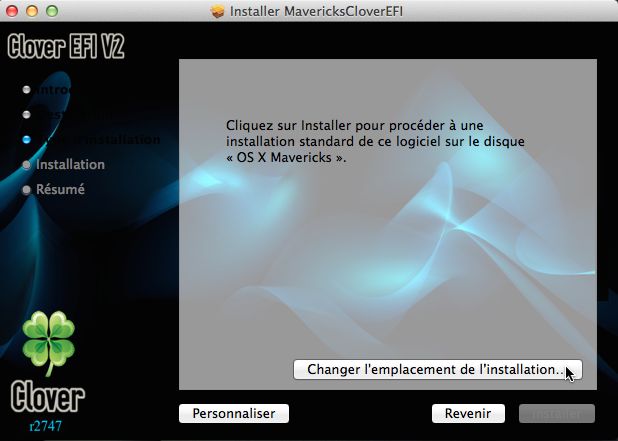 Continue and select usbEFI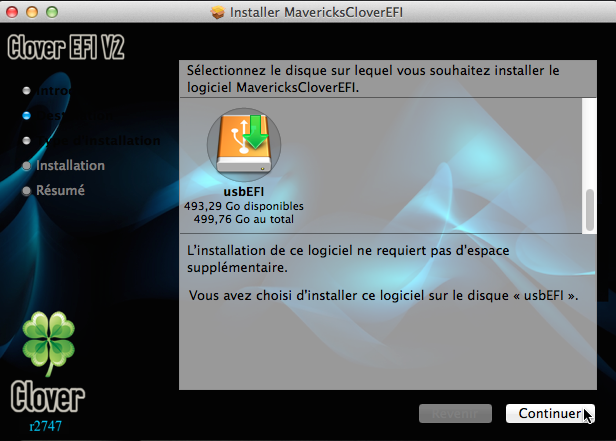 Now select your Clover Mode Installation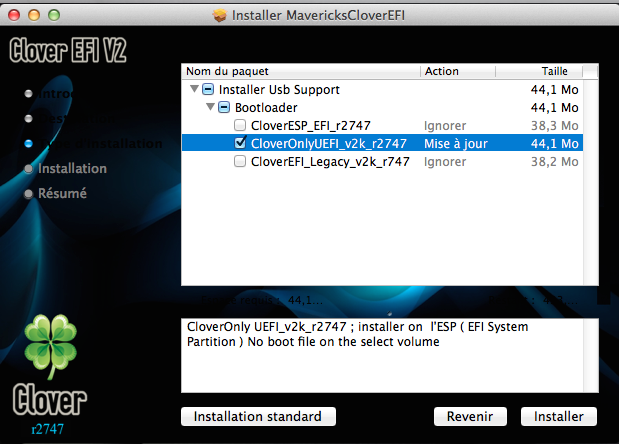 Boot Mac OS X from USBEFI

Type space and select boot options verbose mode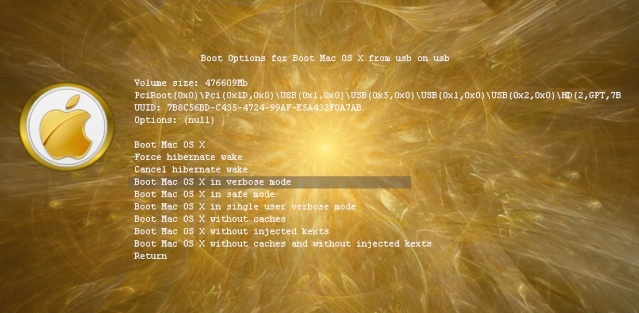 Credit
Thanks to Slice and are Team Clover for Clover_v2k_r2747. Développeurs: Slice, with help of Kabyl, usr-sse2,
jadran, Blackosx, dmazar, STLVNUB, pcj, apianti,JrCs,
pene, FrodoKenny, skoczy, ycr.ru, Oscar09, xsmile, SoThOr...
Code source, crédits et remerciement à: Intel, Apple,
Oracle, Chameleon, rEFIt and Xom. Paquets d'installation crédit à:
Chameleon team, crazybirdy, JrCs. Support Fat32, HFS +, ESP.
THANKS TO ALL HACKINTOSHERS
FOR TESTING
Packager CHRIS1111

Follow the video but the Installer is changing with two more Clover mode Installer , Please read the post



ENJOY MAVERICKS WITH CLOVER EFI !
New Version V4
Update Clover r2747
56 user(s) are online (in the past 30 minutes)
17 members, 37 guests, 2 anonymous users
skelt, nishank.kumar, dimiloud, pikachu0287, antani74, tmvkzm, tq9931a, dennis6222, bedrat2, rafael.tics, Tanmay, vishalpatel, bugatino, luky35, Sun River, Attilathehun, user.unknown
Mavericks Clover EFI.app